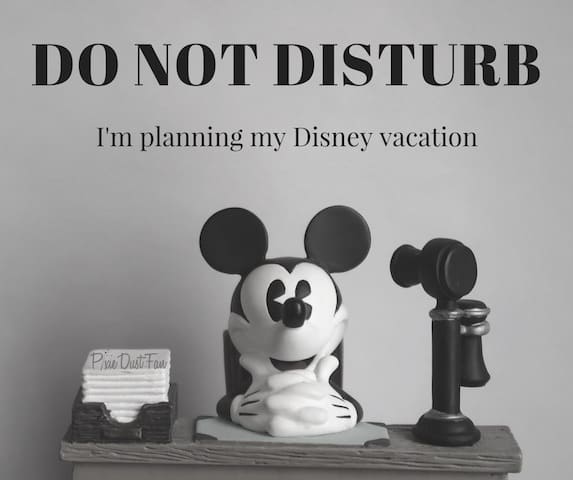 Whether it's your first Disney vacation or your hundredth, you should use a travel agent who specializes in Disney vacations.  This topic is debated frequently in many Facebook Groups, but I often see some big misconceptions given for reasons against it.  I decided it was time to correct some of that misinformation.
Here are my top 5 myths about booking with a reputable Disney Travel Agent
1.  You will pay extra
If you are booking a vacation package, most agents will not charge a fee.  Your Disney vacation will cost the SAME as if you booked it directly with Disney yourself.  Instead of costing you money, they will tell you where you might be able to save some money or what 'upgrades' would be worth it.
2.  You lose control of your vacation
Nothing could be FURTHER from the truth.  You can control as much or as little as you like!  You can book all of your own Lightening Lanes, dining, Bibbidi Bobbidi Boutique reservations and special events if that's what you want to do.  You are absolutely in control – it is YOUR vacation!
3.  You don't need one
Honestly, I need one…. and I've been visiting for over 40 years!  I don't need one to recommend dining or link my resort for me, but doing the legwork for changes to a vacation is priceless.  If there is a promotion, event, or website glitch that requires a call to Disney – the agent calls for you.  You don't have to sit on hold for hours and HOURS when the room promotion comes out, or when you have to change dates because of a hurricane coming or a pandemic closing the parks – an agent does that for you.
4.  All of the information is online anyway
Sure, and you still can do your own research when you're using a travel agent, but they'll help you decipher the truth from the 'click bait' online.  We all have friends who have advice or read something somewhere, but how do you know what's really going on?  Use an agent to bounce around ideas with your specific goals and family in mind.  Good agents draw on the tribal knowledge within their team and their own frequent experience to provide specific information tailored to your needs.  Why would you not want that extra resource at your disposal if it doesn't cost you anything?
5.  They're all the same
No, they aren't all the same.  There are so many variables when choosing an agency to work with, and you need to make sure that they know what they're doing!  Find an agency with a team of people who have relevant and recent personal experience who love what they do – that's where you find the right one!  When you're looking to plan, reach out to my team at Playcation Travel LTD for assistance.
Do you use a travel agent to book your Disney vacation?