Is Tron Lightcycle Run scary?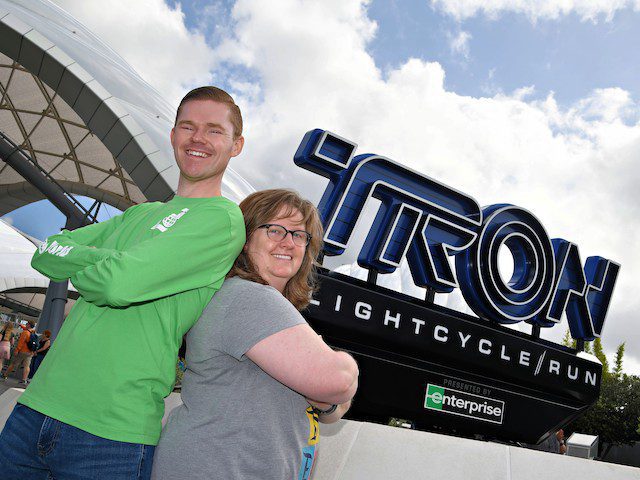 If you have been following me for a while you know that as my age increases, my tolerance for the 'thrill rides' decreases.
While I once loved a good thrill ride (NEVER Tower of Terror, that's just crazy!), I have found that I'm not able to cope as well as I once did.  I suffer from motion sickness (I never had that before) and I get dizzy easily.  As each new attraction opens I tell myself "just do it once so you can say you've done it!" and I power through.  With each new attempt it gets harder and I worry that the 'next' attraction will be the one that convinces me not to try any new ones.  Thankfully, that day hasn't come yet!
After my crazy experience on Guardians of the Galaxy Cosmic Rewind I was very apprehensive about trying Tron.  If you didn't read about that one, it was probably the first attraction in a long time that made me second-guess trying any new ones.  When Tron opened I listened to the reviews and heard it was fast and went high up.  There were some comparisons done to the seats at Avatar Flight of Passage at Animal Kingdom when describing a bike you had to straddle.  All of these reviews had me more confused and a little concerned if I would be able to enjoy this one.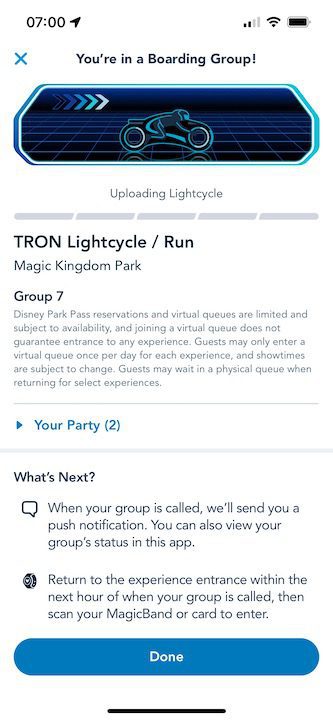 My friend Curtis was with me on Guardian's last year and wanted to be there with me for my first time on Tron.  He assured me that I would be able to cope with this ride experience.  Curtis was up bright and early to get us a boarding group using the My Disney Experience app and texted me as soon as he secured it. He got us an early boarding group (7) which meant I had to get to Magic Kingdom Park before I had time to chicken out!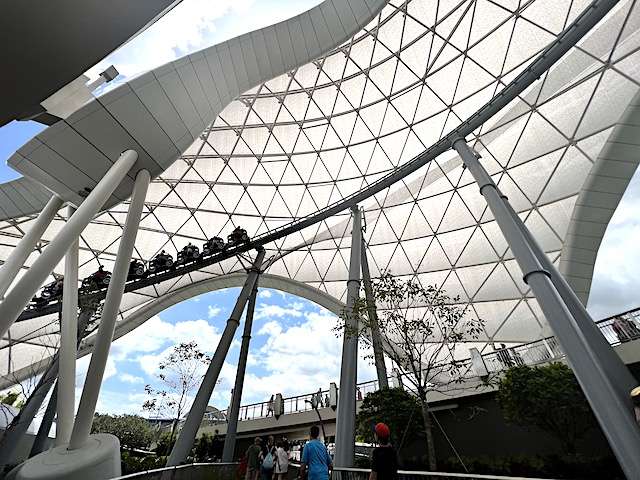 I had popped a Gravol before I left the room (the Canadian version of Dramamine to quell any motion sickness) and hoped it would kick in.  As we walked up and I saw the ride flying by – my heart started to flutter.  I only hoped we wouldn't be waiting too long inside the line.  That's when the panic sets in if I'm standing around for too long.
Much to my surprise the line moved fairly quickly.  We barely had time to stop and take photos as we moved our way through the queue.
We finally hit the complimentary lockers and it was time to drop off our stuff.  You can't take your bags or anything with you on the ride we saw someone get turned back because she had a fanny pack on.  She had to take it off and put it in the locker.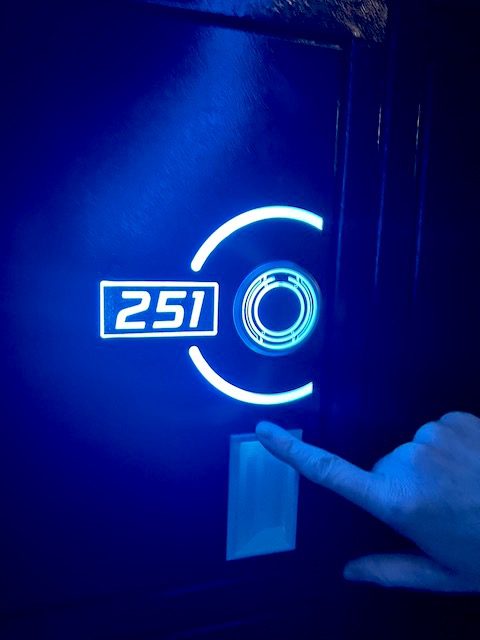 When you walk up to the lockers there is a HUGE wall of them.  They are big enough to put your park stuff in and you lock it with your magic band or ticket – they are free to use.  Remember your locker number!  When you exit the ride you'll be on the back side of that wall of lockers to remove your belongings from the other side.  There wasn't a crowd and we had no trouble putting our things in or getting our things out of the locker.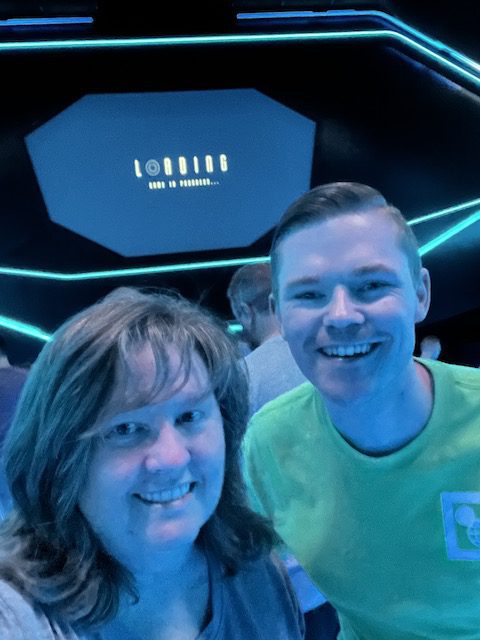 You can take your cell phone with you – on the ride vehicles there is a small compartment where you can store your smaller items like cell phone and glasses.  If you want to keep your glasses and other loose items, don't wear them.  If you look up at the nets above you as you walk to the ride you'll see some items that have been 'caught' falling off.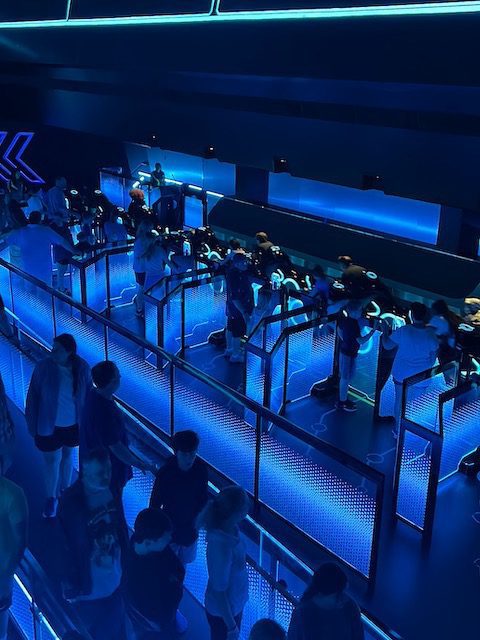 A little bit farther in line and I now get to see the vehicles loading.  The "loading procedure" is a bit different where one person has to walk behind the first bike to get to the second that is side by side.  They have a handy little diagram to illustrate how it's done.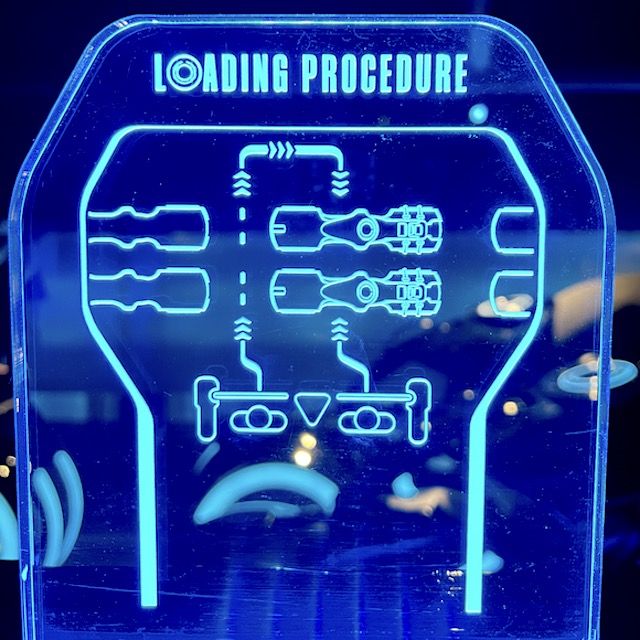 The line of bikes pulled up and it's time to get on.  First thing I can tell you?  You can't swing your leg on it around the back – you have to lift one leg UP over the seat.  This was a slight problem, my shoe got stuck on the seat and I struggled a little, but in the end I managed to get my leg over.
Once you straddle the seat you place your knees and feet on the designated rest spots for them.  Grab the handlebars and pull them toward you.  The seat folds around you so that there is a back restraint holding you in place.  Instead of typical leg restraints there is a pin that comes out behind your knee. It does feel a bit uncomfortable at first, but once you experience the initial launch, you forget all about that!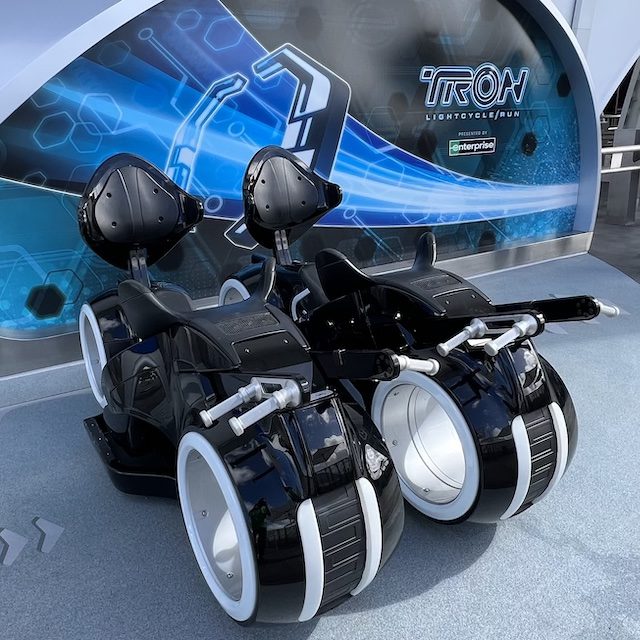 The good news is that they do have TEST seats out front and if you have any apprehension you should try them before you get in line.  It is possible that some body shapes will not fit on the bike and it's better to know before you get in (ask a Cast Member for assistance if you are unsure).  You also want to make sure to measure the little ones before getting in line to avoid disappointment.  The minimum height requirement is 48in (122cm) or taller (rider switch is available).  
There are accessible seats available on some trains if you prefer (see the pic below – they're like a regular upright seat on a coaster).  They are in the last row of the train and have a lap bar to secure you.  My sister did that seat and said it was great.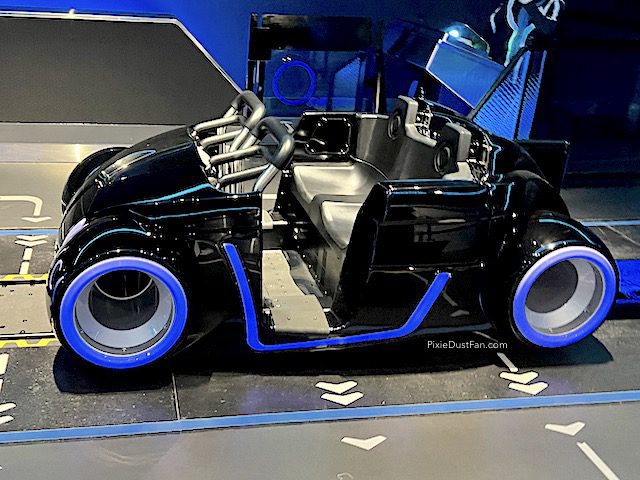 Due to my surprise on Guardians of the Galaxy, I wasn't going to be caught off guard again on the Tron ride.  I watched the spoilers on YouTube in anticipation of my first ride so that I had an idea of what it would be like.  Despite all of my research, I honestly didn't understand how FAST it goes! Look at my hair, it's like a proper roller coaster!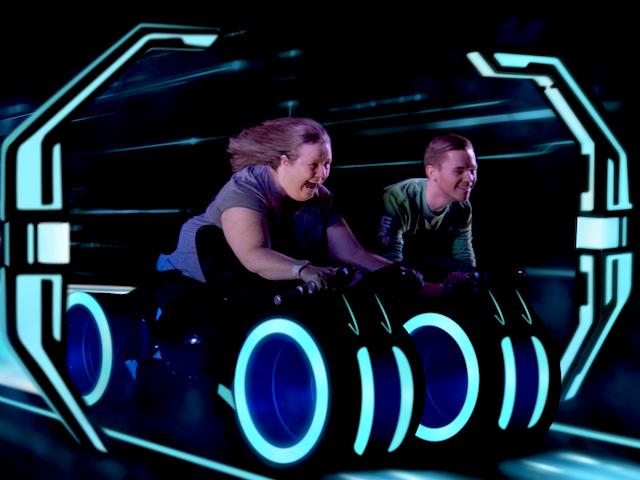 The time outside was fun, it was amazing to be up that high and see the people below.  Once we were back inside the building there were plenty of lights, visual effects and high speed – but I think I was screaming so much that I don't remember a ton of it!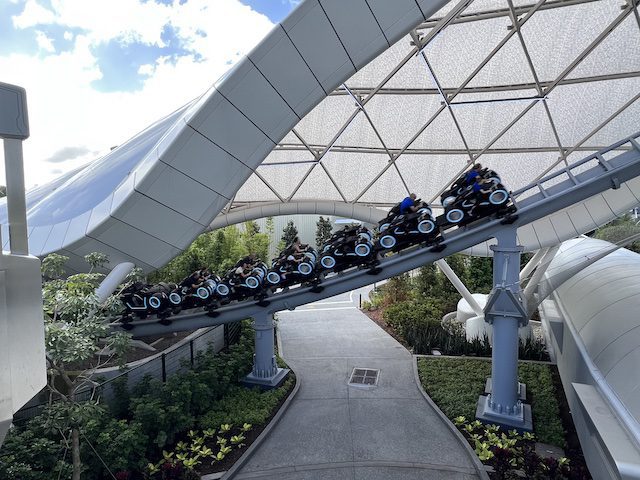 Many people have been complaining because it is a "short" ride – it's only 2 minutes long, but in all honesty – that was perfect for me!  I didn't have time to get queasy, I got to enjoy the ride and before things made my stomach turn it was done.  If you want to see some spoilers there are plenty of ride-throughs on YouTube.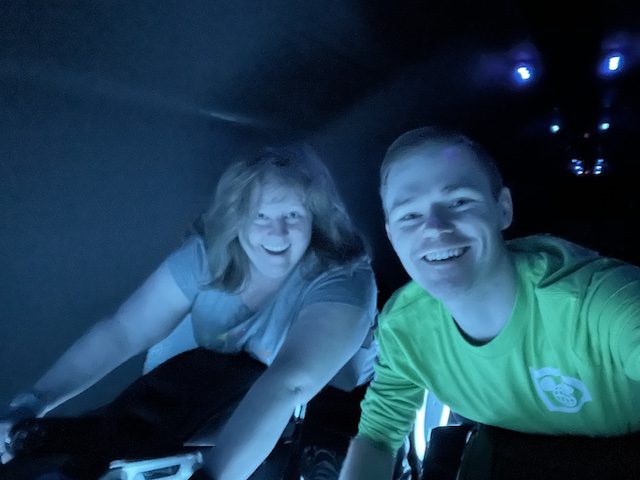 In the pic above that was RIGHT after we finished the ride before the exit.  Curtis is pretty quick with his phone so we could capture the moment!
Getting off of the vehicle I had the same issue as when I got on, my foot getting stuck because I couldn't raise my leg high enough.  But a little maneuvering and I managed.
We left the ride area, grabbed our stuff from the lockers and I felt pretty good.  We stopped for some pictures out front and then headed down to the Space Mountain gift shop to look at the Tron merchandise. 
Now that I've done it would I ride it again?  Yes.  Is it something I must do every trip?  No.
25-year-old Francine would have rated Tron as a "must do" and I know so many of you will!  It's an epic attraction for sure.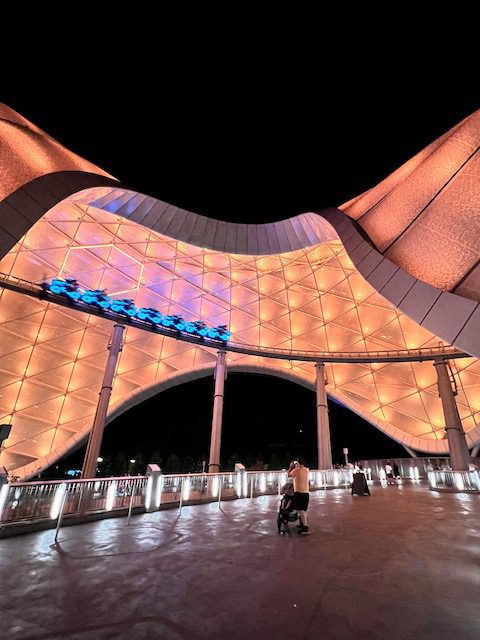 I highly recommend seeing it in the day and at night, the lights are so gorgeous and it's a fantastic spot for pictures.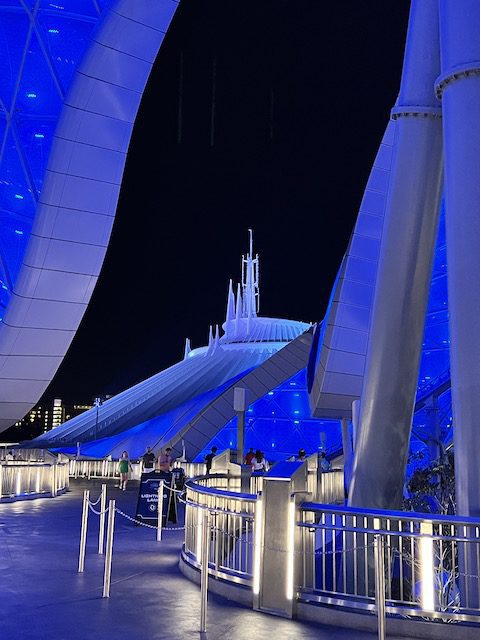 Have you ridden Tron Lightcycle Run?  Would you consider it a must-do next time?
​If you aren't sure about the other thrill rides, make sure you read my review of Guardians of the Galaxy and take a look at the attraction seats for Avatar Flight of Passage.