They say breakfast is the most important meal of the day, why should it be any different on vacation? The question is – what are the BEST breakfast options in Walt Disney World?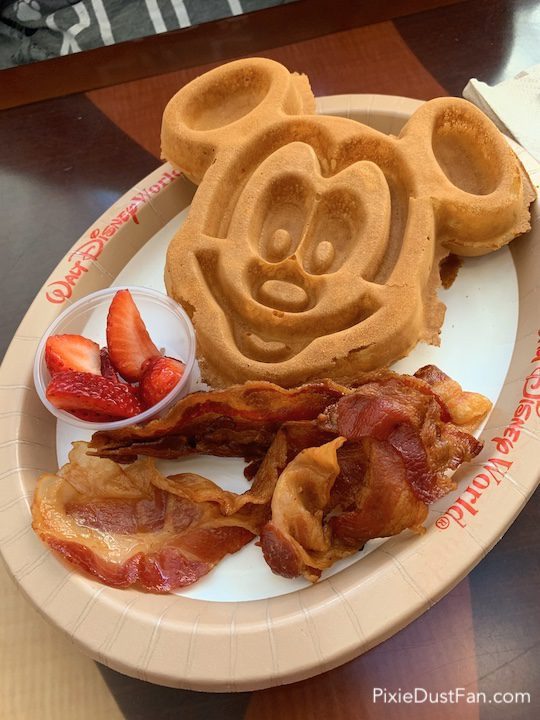 As you would guess, there isn't just one – and the answer isn't simple. It depends on the food you like and your plans for the day. Do you want a heavy or light breakfast? Are you in a rush? Do you only want healthy or are you happy to have all sugary goodness?
There are so many different options for breakfast on your Walt Disney World vacation that we need to break it down in to categories.
Order groceries / snacks from a local service to have 'on the go' stuff for the morning
Eat at a quick service location or grab a snack in the park
Have a full sit-down meal at a table service place (bonus for characters in attendance!)
Pretty broad categories aren't they? There are also many options within each category, so to make it easy I'll give you my personal top picks for each.
Order Groceries
Having something in your room to grab and go is a great idea for people that want to be at the park before it opens and don't want to be up extra early for a breakfast reservation. They either bring snacks from home or order some to be delivered to the resort (read our blog here for the service we use). Maybe some granola bars that they might even eat on the bus on the way to the Disney parks. While each resort room has at least a 'beverage cooler' – they aren't really big. I would suggest the majority of your snacks shouldn't need to be refrigerated if you plan on keeping some drinks in the cooler too. If you're staying at a 1+ bedroom villa with a full kitchen, this of course isn't an issue since you have a full size fridge.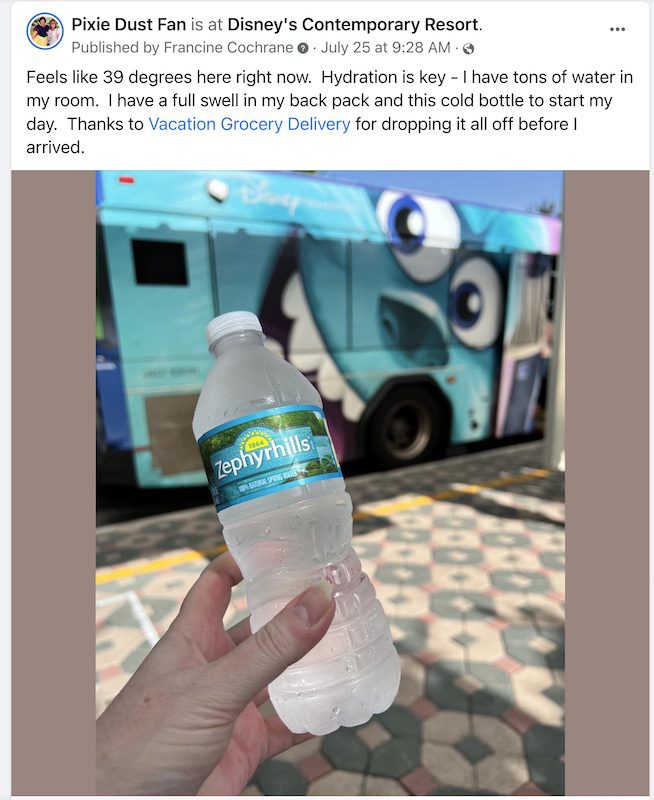 Quick Service Restaurants
Disney uses the term "quick service" to describe a location where you essentially seat yourself. It's like a 'fast food' location where you order on the app or at a counter and then take your food to your table on your own.
There are SO many quick service locations throughout Walt Disney World and EVERY resort has one. Some are better than others, but when it comes to breakfast – there are a few menu items that deserve a call out.
1. The Bounty Platter
This breakfast has a few different variations around property depending on where you get it, but it's fundamentally the same. Scrambled eggs, meat (either sausage or bacon) and potatoes (usually tots or hash). Sometimes it comes with a waffle, biscuit or fruit. This is my go-to breakfast and bonus points when I get it at Disney's Contemporary Resort where I can watch the monorails go by. It's the perfect way to start my day and I have never had a bounty platter I didn't like!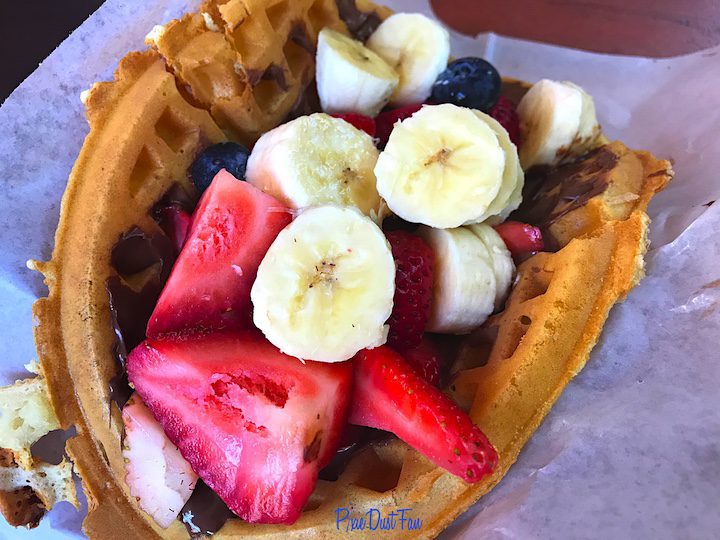 2. Fresh Fruit Waffle Sandwich
This is a great breakfast treat at Sleepy Hollow in the Magic Kingdom – full of fun fruit and chocolate.. who wouldn't want this?? It's a great spot to hit mid-morning in the Magic Kingdom after you've done a few attractions. There is only outdoor seating here (and not much of it) so you will most likely need to eat on the go.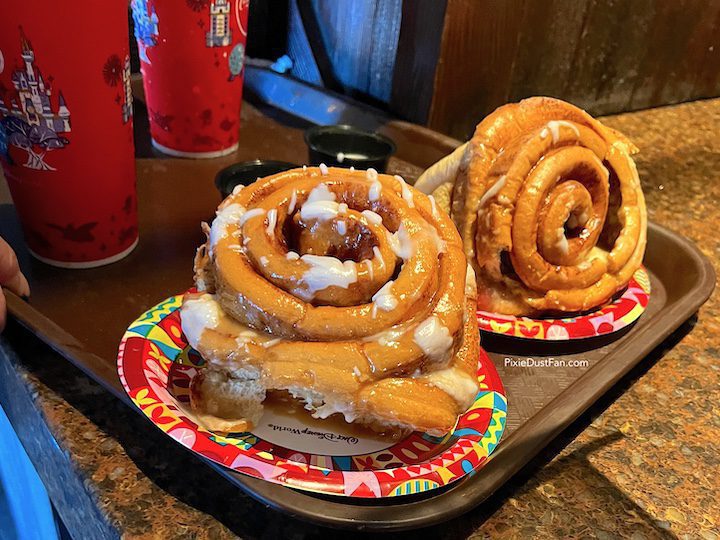 3. The Cinnamon Roll
Yes you can get cinnamon rolls around property, but the gigantic ones found at Gaston's Tavern in the Magic Kingdom are legendary. You could easily split it with someone else if you felt like sharing, but no shame if you want it all to yourself! You can ask for extra icing too – just to make sure it's all coated. It's the perfect amount of sugar to kick start your day.
4. Breakfast bowls
This is a yummy treat that I've found at a few different locations including Woody's Lunch Box in Hollywood Studios. Tater tots (or potato barrels they sometimes call them), gravy, eggs and green onions – so good. It totally hits the spot, but I wouldn't do Slinky right after eating it!
5. Starbucks anything
Yep – any of the pastries from the Starbucks or the breakfast sandwiches are good to grab and go. I find this is the preferred choice of the adults in the party that really need their Starbucks fix to get going.
6. Mickey Waffles
I couldn't do this list without including a breakfast of Mickey-shaped waffles! You can find waffle breakfasts at many of the quick service locations and it usually comes with a protein like bacon or sausage. Sometimes they aren't even all Mickey!
Table Service Restaurants
A table service restaurant is where you are seated by a cast member and the food is ordered via a server and brought to you by them as well. Moderate and deluxe resorts have table service restaurants where the value resorts do not. You can also find many inside the theme parks and at Disney Springs.
Some of my favourite table service breakfast spots:
1. Topolino's Terrace
This is a fantastic breakfast spot where you get to dine with the characters as well! Located at Disney's Riviera Resort, it's an easy trip on the Skyliner after breakfast to go to Epcot or Hollywood Studios. What I like about this one is that it's not a buffet (as so many character meals are) and the food is made to order. The show is terrific and the food is yummy. I once did this character breakfast solo and enjoyed it just as much as I did with my friends.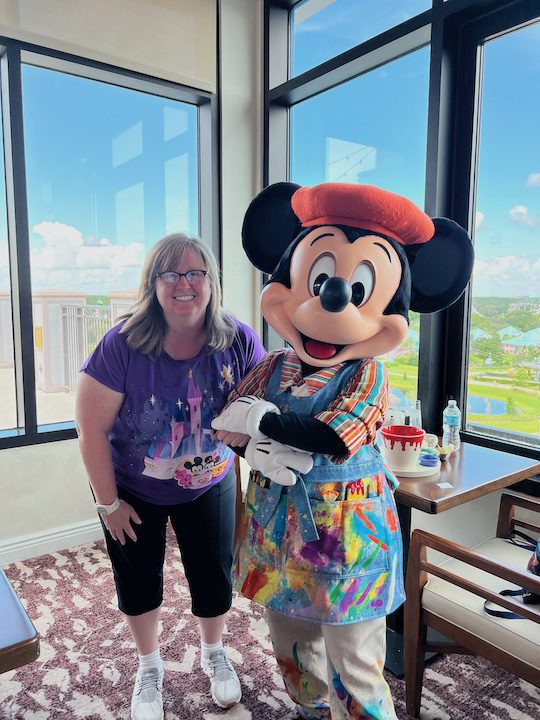 2. Steakhouse 71
Located in the Contemporary Resort this is a little hidden gem. The menu is varied and offers choices for everyone, While this post is about breakfast, I'm happy to report that all 3 meals are terrific at Steakhouse 71.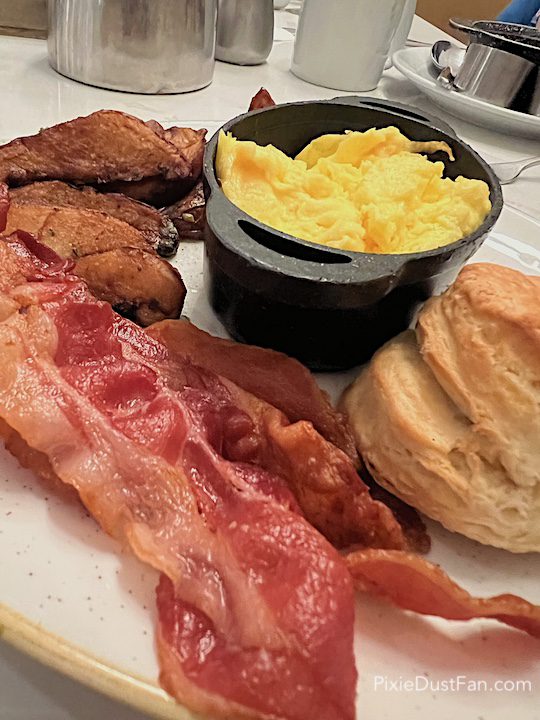 3. Kona Cafe
I feel like the Disney community would be incredibly angry if I didn't include this one. Kona at Disney's Polynesian Village Resort is famous for the Tonga Toast dish which is Banana-stuffed Sourdough French Toast rolled in Cinnamon-Sugar. Sounds amazing, but if I'm honest, I don't love it.
I enjoy breakfast at Kona and normally get the eggs and protein – but not the Tonga Toast. I have friends though that think it's amazing, and this is why the "best" is so subjective!
4. Chef Mickey's, Crystal Palace and Tusker House
Alright – this is where the Disney community has hyped up these locations (and rightfully so) but the food isn't the draw here, it's the characters. The breakfast buffet experience may differ slightly across locations, but that really isn't what you're there for.
Chef Mickey's is of course hosted by the main mouse himself and is located inside of Disney's Contemporary Resort. This makes a great choice for the Magic Kingdom days where it's a short walk to the park after breakfast.
The Crystal Palace is inside of the Magic Kingdom and is hosted by Winnie The Pooh and friends
Tusker House is located in Disney's Animal Kingdom and makes for a great option to start your day at that park where Donald Duck and his friends entertain.
As you can imagine there are so many breakfast options that everyone will have a different opinion what the best one is. As you can tell, I'm more of a 'quick service' gal vs a sit-down meal at breakfast although I do enjoy them occasionally.
Whether you choose to start your day with a character dining experience, a granola bar on the go or a bounty platter, they are all a 'good breakfast' to you. I often see people online being upset before they even GO on vacation because they didn't get a reservation at Cinderella's Royal Table. While it's a unique experience, it isn't everything and will not make or break the trip. Enjoy the delicious food, the experiences and the magic wherever you go.
Did I miss any of your favourites?? Let me know in the comments below!