3 Things you need to consider before ordering groceries for your Walt Disney World vacation
So you're heading to Walt Disney World and thinking about how much spending money you'll need each day for incidentals.  For me – my biggest cost is my bottles of water.  Really, the 'healthiest' thing I is drink plenty of water – I always have a bottle of it with me and when it's hot out – I drink a ton at $3.75 each, it adds up quickly.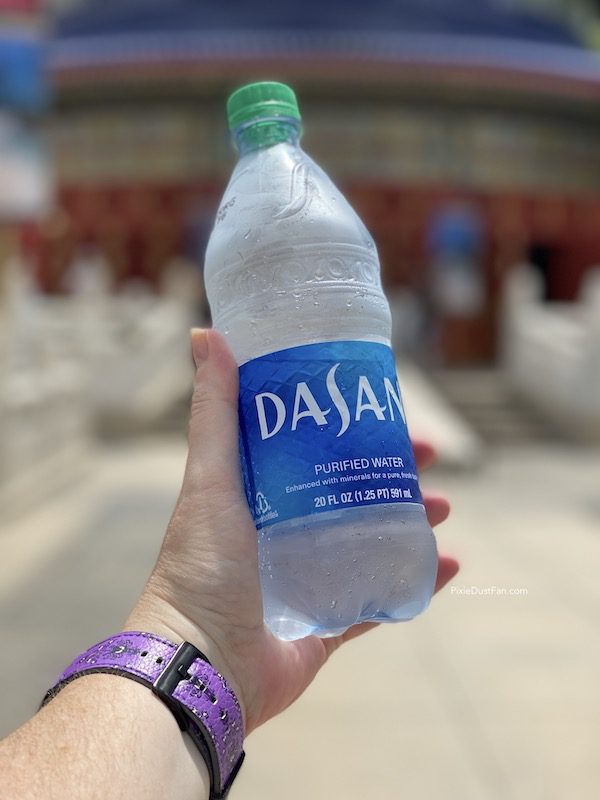 While water is my thing, many families like to have some snacks for breakfast before they leave the resort to avoid eating in the parks.  Or to have something they can take WITH them to the parks to avoid buying snacks there.  But how do you get groceries when you're at a Disney Resort?  There are many delivery services – but before you order, there are some things you need to know:
1. Charges at your Disney Resort
There is a $6 USD charge for any deliveries at your Walt Disney World resort for which you need bell services to bring to your room.  If you want to go to bell services to pick up your packages, they are at no charge.   I personally prefer to have them bring them to my room – $6 is worth the convenience to me vs trying to lug cases of water!  Don't forget to tip them as well, the bell serivces team (as with all cast members) work HARD to make your vacation magical.  
2.  Selecting a delivery service
While it seems pretty straight forward (look for the one with the cheapest fees) – not all deliveries are created equal!  Some things to consider before selecting your service:
Some offer a flat rate that is a less than others – but they also 'mark up' the items they are buying.  Compare the price of the actual items themselves in your calculations.

Decide what items you need before you start comparing.  Some things aren't available at all stores – do they have substitutions?  What is the method for replacing something on your list?

Do you need alcohol?  (Ok, maybe not 'need' but want?).  Disney requires that if there is alcohol in your order you MUST meet the delivery driver to show ID.  No exceptions.  (This was implemented in Aug 2023).  If this is something that is in your order, you will have to consider the delivery window and availability of when you can meet your shopper.
3.  Selecting your items
Sure – it sounds like a great idea to order ahead.  There are some FANTASTIC things you can have sent to your room, but are you going to use/eat them all??
It's easy to get carried away ordering online, but remember that you are ON VACATION!  You will be snacking, eating and drinking in the parks and you may not want (or need) a whole ton of snacks that you ordered.  Will you be diligent in walking past the popcorn stands, cupcakes and other tasty treats in the parks to eat the granola bar in your bag?  So many people try to 'save money' by ordering groceries and end up spending more because they ordered too much.
Another fun tip is to beware of the sizes of things.  I personally ordered 48 bottles of water and when they arrived – well, they were NOT what I expected. I didn't know they made them this small!  
While saving money is an important piece of a Disney vacation for so many, the above factors should be considered in your planning.  
There are many different services to choose from, all with different business models.  I have a few listed below the ones that I have personally used.
Grocery Delivery Services at Disney:
Vacation Grocery Delivery Florida
This is the service that I have used on my most recent trips.  They have a flat rate for your groceries and they never mark up the items.  That means you get what the price would be if you went to the store yourself.  They primarily shop at Publix – which usually has everything you could want.
The founders of this service are former Disney cast members and all round lovely people.  I had the pleasure of interviewing them on the podcast – check out episode 191 to get to know this incredible duo.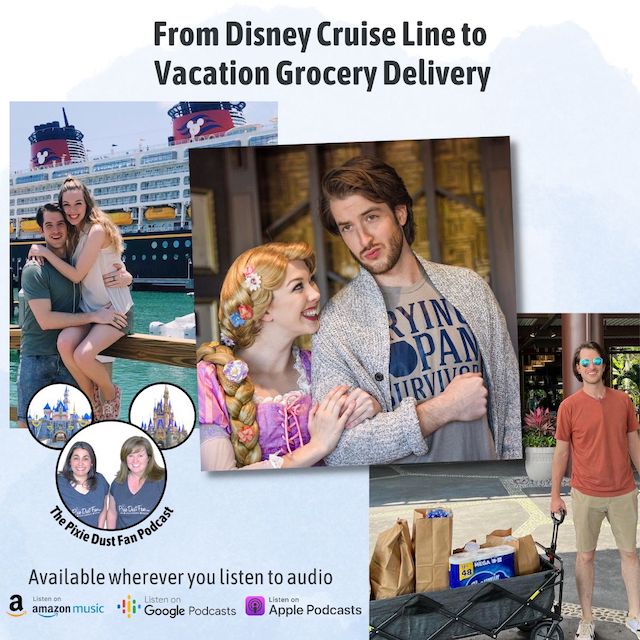 Garden Grocer
Garden Grocer is a full grocery store near Walt Disney World.  I have used them multiple times in the past and often check their prices to do the math when comparing.  They have a flat fee for delivery that is waived if your order is over $200.  If you order in advance, they also have additional savings based on how far ahead you order it.
Amazon
If you are an Amazon Prime member, you can use the Amazon Prime Delivery service!  Amazon Prime NOW can be ordered on short notice – with a 2 hour delivery window, it's quick!
Instacart
I wanted to try Instacart while I was in Florida to see how it worked, and pretty much is the same as at home.  There are delivery fees AND they mark up the prices of the items.
Do you have a service that you have used in Walt Disney World?  What type of things have you ordered?