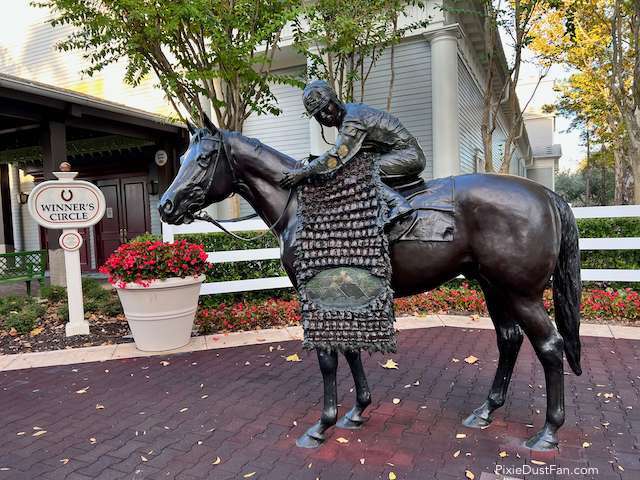 I am a big believer in enjoying your RESORT while at Walt Disney World and not just being focused on the parks.  The resorts offer a bit of a different kind of holiday, with pools, shops and food to be enjoyed outside of the parks.
Should you go to Walt Disney World and NOT go to the parks?
Disney's Saratoga Springs Resort and Spa is one of the best resorts in my opinion for a "vacation outside of the parks".  The proximity to Disney Springs offers a multitude of shopping, entertainment and dining experiences close by, while still being "far enough" for a little solitude and relaxation.  It's a leisurely walk over to Disney Springs or there is a boat you can take that launches from just behind the main building.
The resort was inspired by a late 1800's New York retreat famous for its spas and horse racing.  Horses are represented all over the resort, but the lobby has the best nod with the famous Disney horses being showcased throughout!
The amenities and recreation at this resort should not be overlooked, they have a wide variety of things to enjoy.
Disney's Lake Buena Vista Golf Course
This course has hosted the PGA Tour, the LPGA Tour and USGA events (I have no idea what most of those things are, but a golf pro could tell you!).  The 18-hole course was rated 4 stars by Golf Digest and has some pretty big accolades online.  There is a pro shop with some impressive merchandise that even a 'non-golfer' who was a Disney fan would love.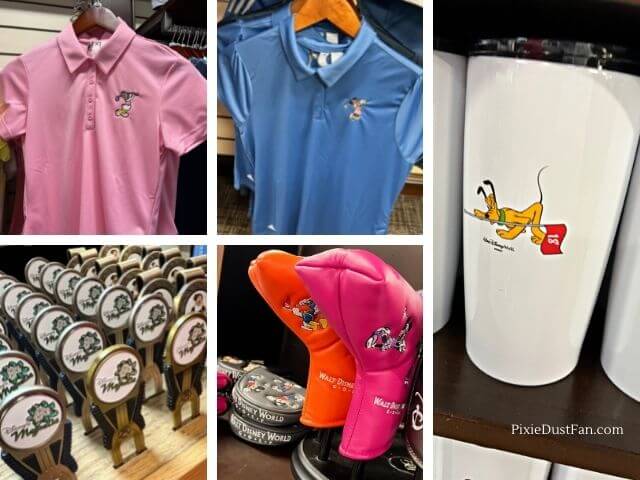 While I was getting a tea one day in the shop I met a lovely local lady who said her husband loves to golf and this was his favorite course.  Once a week he would come to the resort to golf and she would get a coffee and enjoy the shop and wander the grounds.
Bike Rentals
Admittedly this one is not for me, but it does look like fun when I have seen others do it!  You can get individual bikes or surrey bikes (fit for 2 -6 people).  When you can get people to come together to pedal somewhere, it just looks like family bonding at its finest!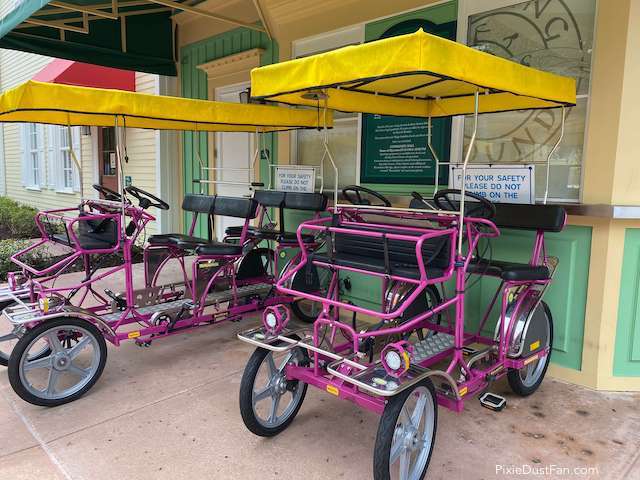 Jogging Trails
They are all over Walt Disney World resorts, but I just really try to stay out of the way!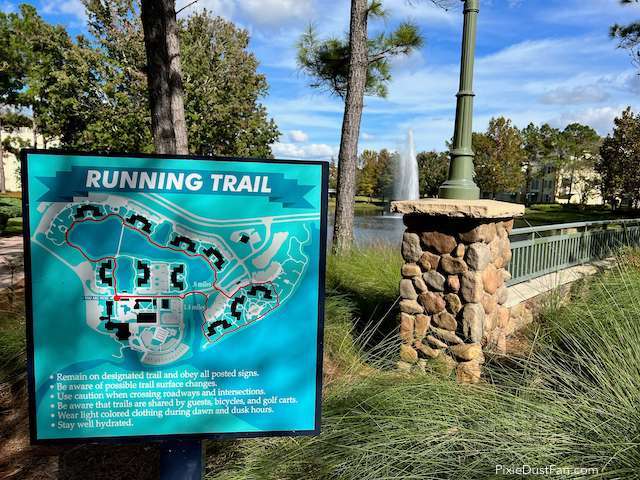 Basketball Court and Tennis Courts
Admittedly – I don't even think I've seen these on my multiple stays!  But they are there and you can get the basketball or tennis racquets at Horsing Around Rentals.
Playgrounds and Pools
There are 2 feature pools and 3 leisure pools at this resort.  Whether you want a waterslide, play area or quiet time – there is a pool suited to your needs.
Senses Spa
Facials, massages, wraps and relaxation is what you'll find at the onsite spa.  Check the times before you go as some of the services may be unavailable.
Movies, arcade, board games and more – there is activities suited to everyone at this resort.
This is absolutely a resort that you could visit and not go to the parks at all.  While I always advocate for a balance of parks and resort time, you could absolutely spend a week here and not visit the parks at all.
This is a Disney Vacation Club Resort and offers studios, 1, 2 and 3-bedroom units as well as Treehouses!  (click here if you want to know what Disney Vacation Club is).  I have yet to stay in a Treehouse but have enjoyed the studio, 1 and 2-bedroom units.  The rooms have been updated and are bright and inviting – the furnishings used to be a lot darker.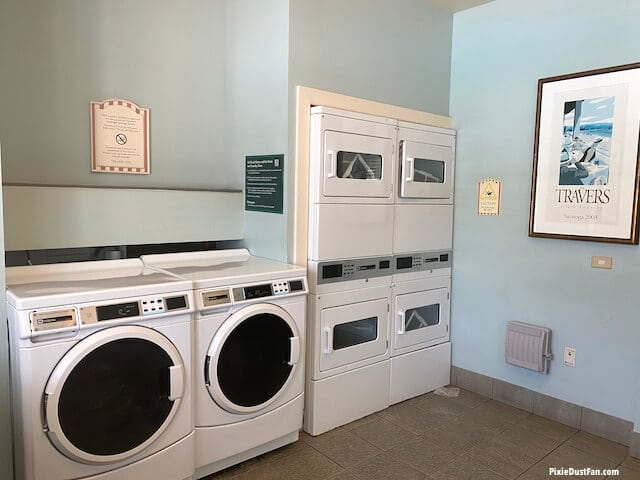 There are laundry rooms if you have an extended stay or just want to go home with clean laundry (I love doing that, it makes unpacking easier).
The main building has a gift shop that has merchandise as well as some grocery items you might need.  It also has a quick service spot for food and desserts that I always seem to enjoy!
Do you want to know more about why we love Disney's Saratoga Springs?
On episode 126 of the podcast, Carrie and I did a full review of "Is Saratoga Springs right for your vacation plans".  You can find the episode here or wherever you listen to your Disney podcasts.
Have you ever stayed at Disney's Saratoga Springs Resort?  Let us know your experience below.