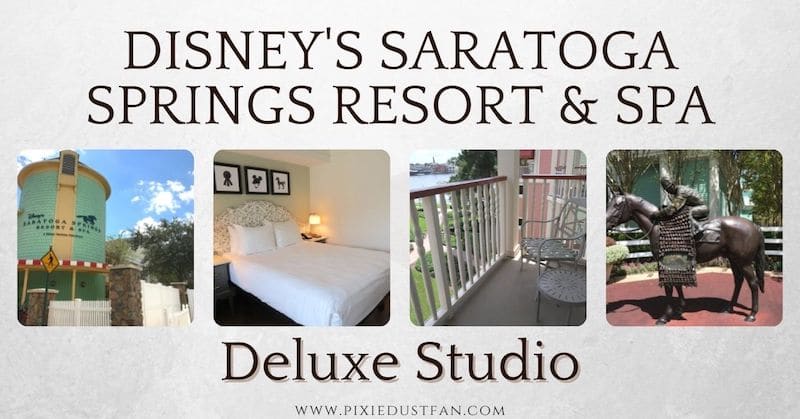 Disney's Saratoga Springs Resort & Spa was not one of my favorite resorts in the past. It always felt too large and a bit 'dated' if I'm honest, but my opinion has changed after my recent stay.
I had gone to Walt Disney World after being away for so long. Given it was more of a last minute plan, I couldn't get a resort for the entire duration of my stay. Using my Disney Vacation Club points, I managed to book a preferred studio room at Saratoga Springs for a week.
A preferred room means that you will be close to the Carriage House (which is basically the main area with the dining, shop and large pool) or you will be close to the walkway to Disney Springs. My fear at such a large resort is getting lost (I'm directionally challenged) so room location is very important to me. I was in Congress Park – the first building in the row along the water.
Once my room was ready I went to bell services and they took me and my bags in their cart to my room. That was handy – I didn't have to try and find it myself! While on the way he explained to me the landmarks to use so I could walk back to the main building and to Disney Springs. I wasn't convinced I wouldn't get lost – but his directions did help.
This was my first trip to Saratoga since the rooms had been updated. The old rooms looked very dark and dated.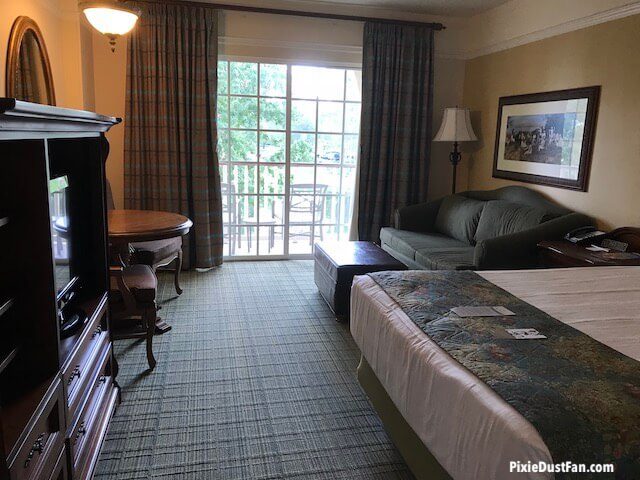 The furniture and trimmings were all dark colors, it made the room feel small.
The new furnishings were bright and inviting!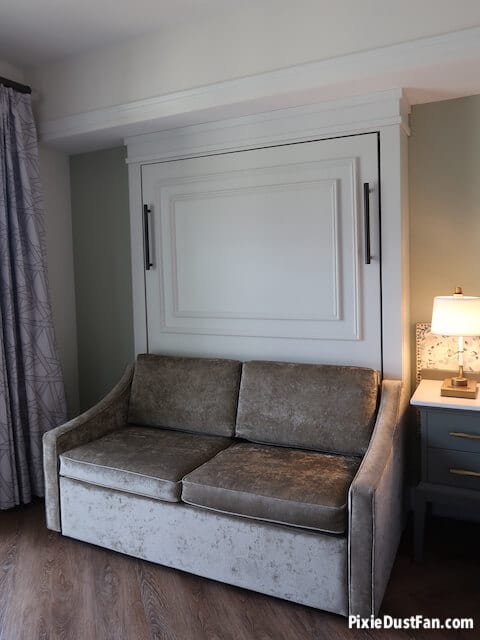 While I checked in by myself, my friend would be joining me half way through my stay. This couch conveniently pulls down in to a bed so we each had our own.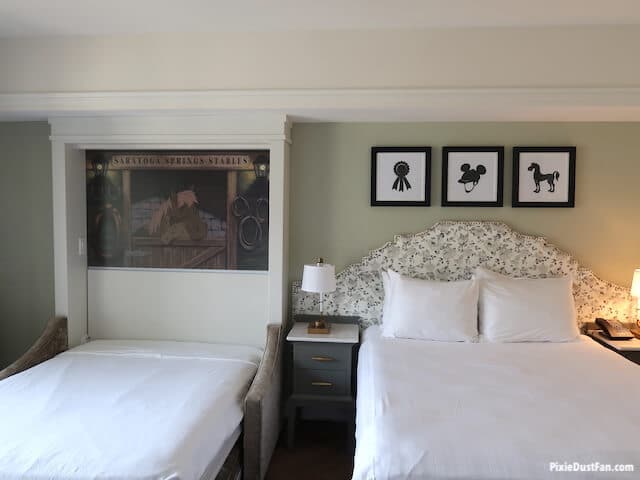 I was working remotely while I was there and the WiFi held up perfectly. The coffee table in front of the couch converts in to a table – perfect for me to work on.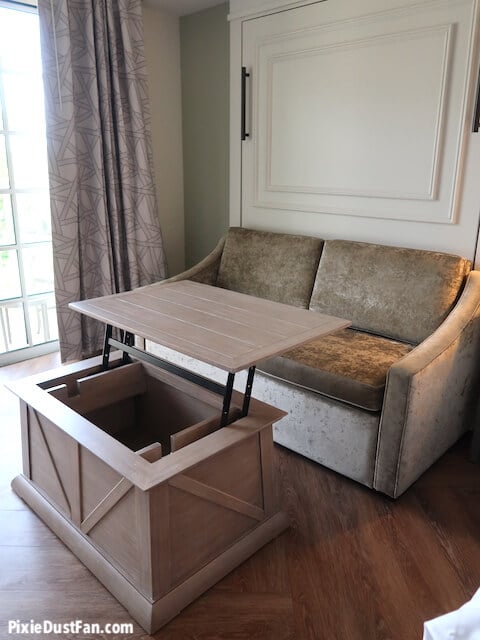 These rooms being Disney Vacation Club studios have a kitchenette with a microwave, small fridge, toaster and coffee maker. It's such an improvement from the old forest green color that the cabinets used to be!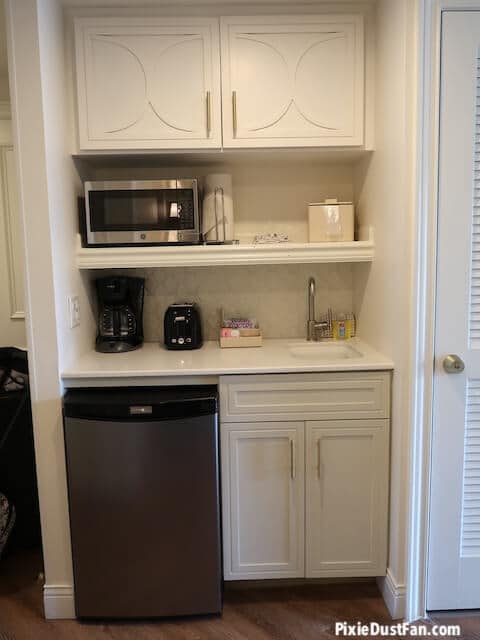 The vanity area had plenty of space for toiletries including two deep drawers. The closet was a fair size and I chose to store my luggage in there instead of under the bed.
The dresser had 6 full size drawers, we had no problem unpacking all of our things in this room. On each side of the dresser there were outlets for 2 plugs and 2 USBs. Between my camera, laptops, my phone and my watch – I always need extra outlets. That would be my only complaint about the studios at Disney's Bay Lake Tower.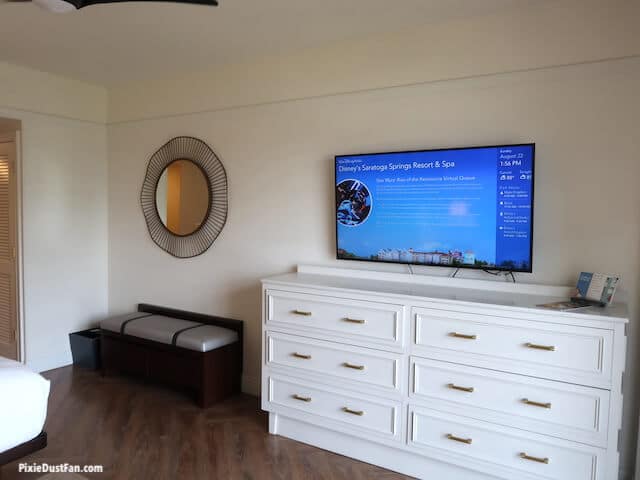 This studio was perfect for me to work from being so close to Disney Springs. I could walk from my building to Earl of Sandwich at Disney Springs and back on my lunch break! I even walked up to the main building on my lunch one day and did not get lost. The new features in the My Disney Experience app has a little map that directed me, it worked like a charm.
The resort somehow didn't feel quite so BIG this time around. I managed to even find the laundry room!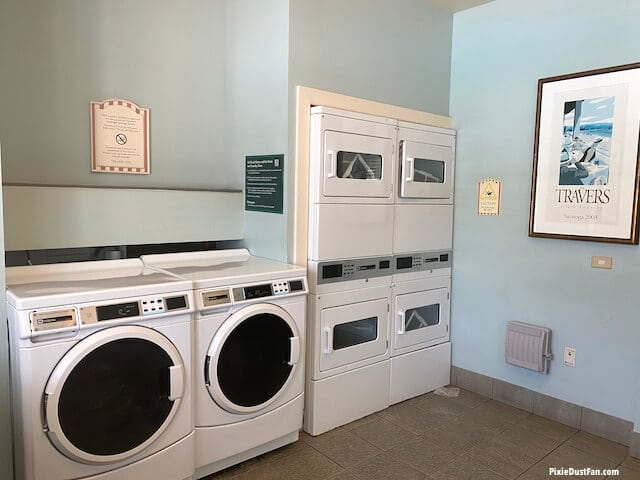 Laundry at the Disney resorts is pretty high tech – well, connected to a website that gives you all sorts of info. I did a full review of laundry at Walt Disney World here.
Has Saratoga Springs moved up in my list of resorts? Absolutely. The updated rooms are beautiful and comfortable and you can't beat the proximity to Disney Springs.
Have you stayed at this resort before?
For a full walk through of the room check out my YouTube below.