Walt Disney World is closed . . . Disneyland is closed . . . and we all have to maintain 'social distance'.
The Covid-19 pandemic has had a profound worldwide effect and Disney has not been immune. Every Disney theme park in the world has closed and almost all of the Disney resorts have been shut down. There is no prospect of anything re-opening until the pandemic is brought under control.
Just like so many other Disney fans, my wife Carol and I are doing our best to practice social distancing during these crazy times. But it's leaving us both with a serious case of Disney withdrawal. None of our friends are at Disney; no one is posting fresh pictures of their adventures. We're really missing the vicarious Disney fix we get from following along with our friends as they share the magic they experience.
We have two Disney trips planned later this year, one in May and one in August but with each passing day it becomes more and more unlikely that we'll be able to make those trips . . . but we're keeping our fingers crossed!
In the meantime, we're curing our Disney withdrawal by spending plenty of time in our 'Disney Room' where we're surrounded by some very special memories of happy times!
Carol has been a fan of Disneyana collectibles since her first trip to Walt Disney World in 1977 and she began her collection of Disney memorabilia way back then.
There is a bit of Disney in every room of our house, but we have one room that is nothing but Disney. Beside our Family Room is a 650-square-foot area . . . our Disney Room . . . and it houses the bulk of Carol's collection.
There are shelves and bookcases, plate rails and display cases, and all are full of Disneyana collectibles! Many of these treasures
bring back very special memories whenever we see them!
Carol keeps it all well organized in themed groupings. As you look through these picures you can see a few shelves set aside for Orange Bird, a few for Dumbo, Alice in Wonderland and Pinocchio. Some areas are dedicated to a specific movie, a theme park or a character.
The plate rails measure over 70 feet and they're filled with Disney collector plates, old Disney mugs and glasses.
The room is jam-packed yet it doesn't seem cluttered!
Keeping a 'social distance' doesn't seem so difficult when we can watch Disney+ on television while sitting in our Disney Room surrounded by all that magic!
How do you cure Disney withdrawal?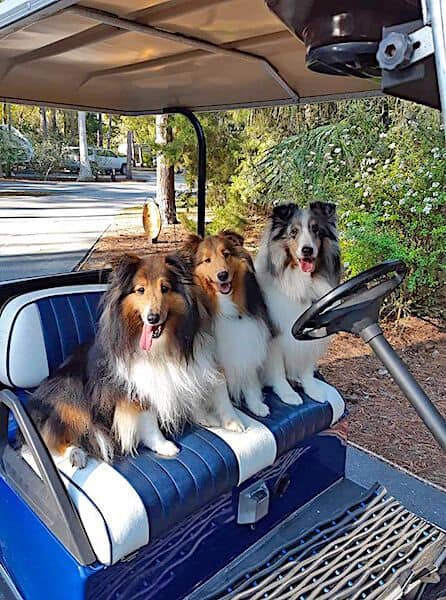 Gary Cruise
Gary
is a retired banker who lives in Kingston, Ontario, Canada. He first visited Walt Disney World in 1977 and has returned many, many times over the years. Since retiring he and his wife Carol enjoy the parks a number of times each year. They especially like staying at Fort Wilderness Resort & Campground with their Shetland sheep dogs.