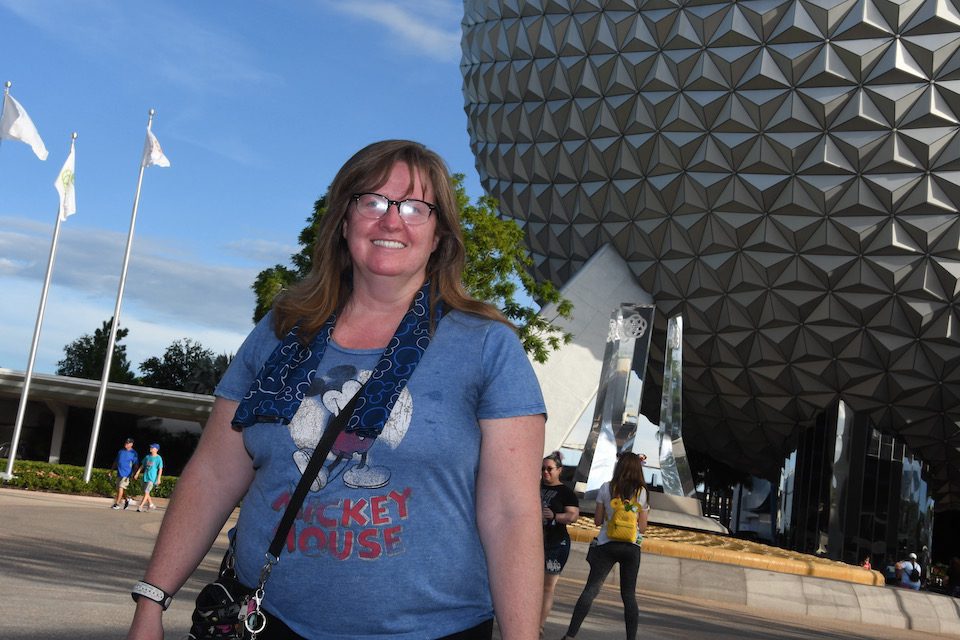 Have you visited Walt Disney World during the summer months?  While the 'sunshine state' is known for sunshine, those summer months can be quite excruciating in the heat.  A hot day isn't just hot, it feels like you're walking on the surface of the sun!
With the temperatures in the 30's and 'feels like' even higher, it is incredibly easy to overheat at a Disney park, no matter how much water you drink. I drink a LOT of water to prevent dehydration but it doesn't combat the increase in my body temperature being outside in the heat.  I try to avoid planning a Disney vacation during the summer months for this very reason, but sometimes it just can't be helped and I need a trip to Walt Disney World in the summer.
One of my strategies for dealing with the heat on my Disney vacation used to be walking from building to building looking for some air conditioner relief.  It could be an attraction, a store, a restaurant – anywhere indoors where they would have the AC on.  Thankfully they do crank the AC up in the summer months so you can get a chance to bring your body temperature down even for a short while.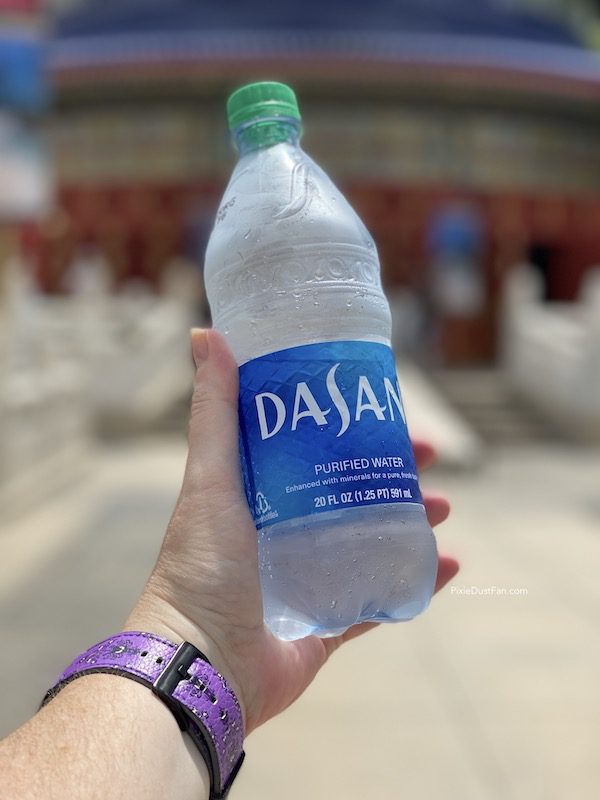 Even with all of my strategies, there was one night at Disney's Animal Kingdom when I felt like I was melting.  I was in one of the shops and I stumbled across the 'cooling towels' that I had read about online.  Since the weather said it 'felt like' 40 degrees, I knew I had to try ANYTHING to cool down a little.  My friends and I decided to buy the towels and give them a shot.  We knew if we didn't do something, we were going to have to leave the park or sit in some air conditioning for an hour, we couldn't take much more heat.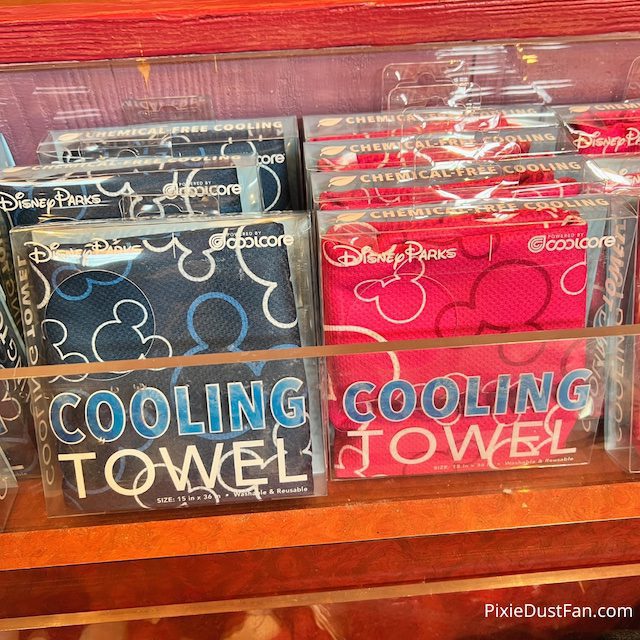 The directions seemed pretty straightforward:
Wet it
Wring it
Snap it
Off to the restrooms we went to wet our towels.  I was concerned because the water from those sinks in the Disney bathrooms isn't all that cold.  I was sure I was going to end up with a lukewarm towel wrapped around me and then I would just be a damp, hot, cranky parkgoer.
I shouldn't have worried, this towel was the BEST purchase I made that entire trip. The cooling effect lasted between 90 and 120 minutes for us when we used cool water, a little less if the water was warmer.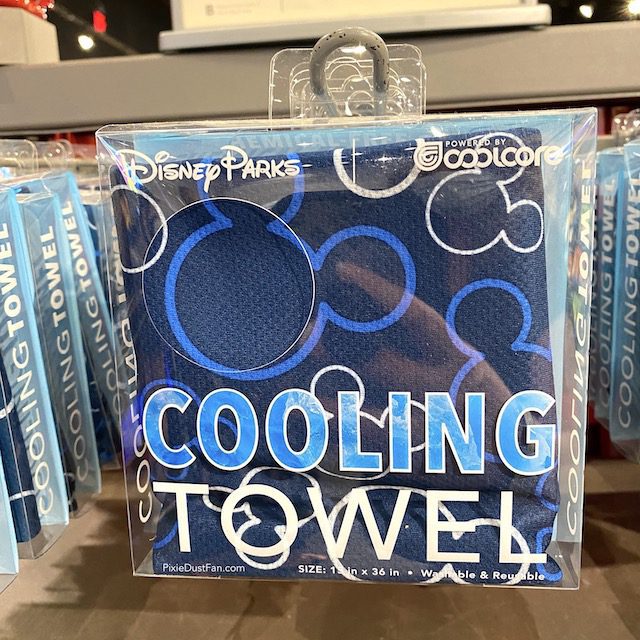 The towels aren't heavy like I expected them to be.  This was my first cooling towel and I was surprised how light it was, even when it was wet.  The only downside (is it even an issue?) is that the towel still has a bit of water in it after you wring it out so your shirt may get a little damp around the collar.
That night and many days after, we didn't hit a Disney theme park without our towels.  Every time we stopped at a restroom we wet them again – and presto, instant cooling.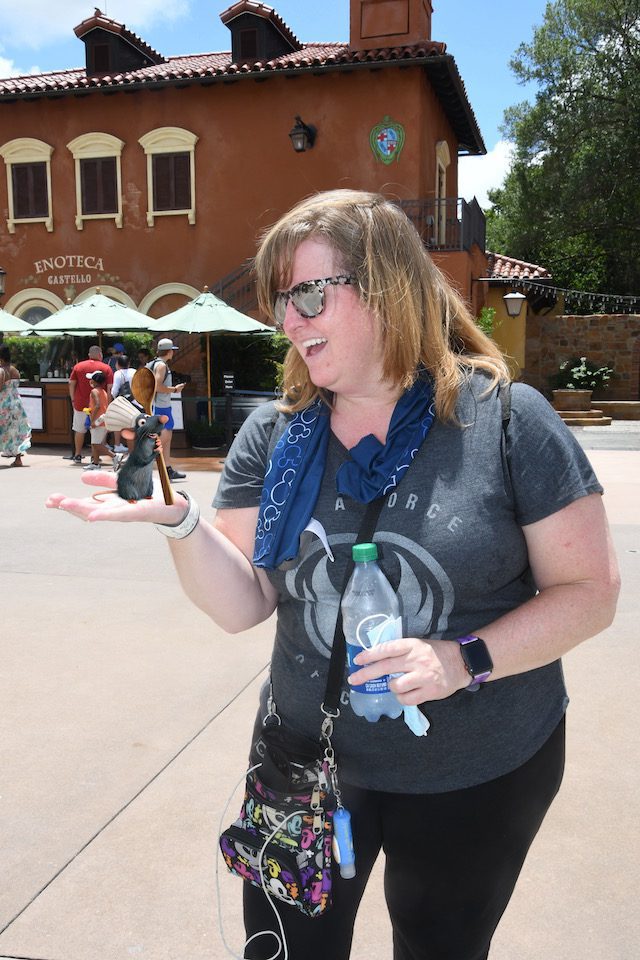 Why I have never bought a portable fan?  I am always concerned that it's just blowing hot air at me and I have a crazy fear of my hair getting stuck in one.  I suppose I could try to add one to my current strategies, but for now, this is the best way for me to stay cool.  I make sure I have my hat (or Mickey ears if you choose) and my cooling towel when I hit the parks.  You can see in this picture below that the Photopass photographer took in Epcot – I'm burnt and have both the hat AND the towel on!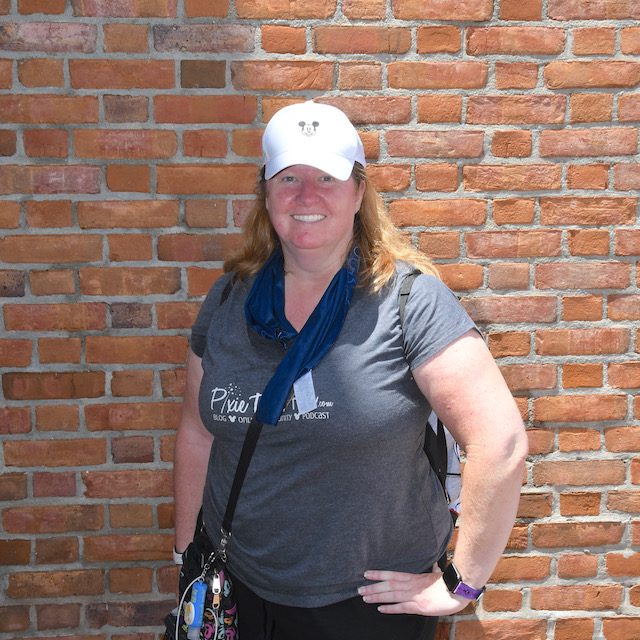 The towels are 15 x 36 inches and come in 2 different colors – blue and pink.  They have some great Mickey Mouse silhouettes on them but you could take it to the Universal parks too.  They are machine washable and available throughout the parks and resorts typically at any time of year.
Have you bought one of the cooling towels?  What did you think?
If you want some of the magic shots from the pictures I posted, check out the reasons you should get Memory Maker for your next trip.