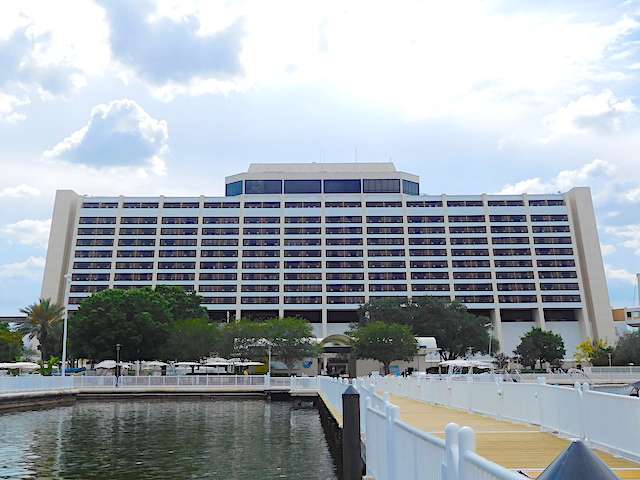 Disney's Contemporary Resort is one of the two original Walt Disney World resorts that opened in 1971 (Fort Wilderness Campground was there too!).  It was the first place we stayed as a family on our very first visit in 1974, so I guess that's why it feels like home to me.   I have always had a soft spot for this resort, and that hasn't changed since my first visit.
Here are the 5 reasons I love Disney's Contemporary Resort
1. Proximity to the Magic Kingdom
Not only can you see the fireworks from the Contemporary resort, but you can WALK to the Magic Kingdom!  It's an amazing feeling at the end of the night, the fireworks end and swarms of people are leaving to get on a bus, boat or monorail and you get to avoid the crowd and just walk back to the resort.  It's a quick walk that completely removes the stress of that 'commute' after a busy day in the Magic Kingdom.  It also makes it SO much easier for afternoon breaks to spend a few hours mid day at the resort and not spend time travelling and waiting for buses.
2. Food and Drinks
I don't know what it is about the Contempo Cafe, but I love it.  Maybe it's sitting in there watching the monorails go by, or hearing the kids at Chef Mickey's having a fabulous time, but this quick service is one of my favorites.  From breakfast to dinner – there is always something tasty to eat here, and of course they have some good treats too!
The Outer Rim Lounge is a great place to relax and have a drink.  Here you can get some light snacks with a full bar menu while looking out over Bay Lake.  It's not big, there is limited seating at this cute lounge next to the Contempo Cafe.
California Grill is a convenient dinner option when staying at the Contemporary.  It's a signature dining experience located on the top floor of the resort.  It's nice to have a great meal up there, watch the fireworks and then just take the elevator back to your room.  The perfect evening all contained in one building!
Of course I couldn't talk food and drink at the Contemporary without mentioning Chef Mickey's!  This fan favorite is always fun and it is much easier to get to that early breakfast reservation when you're staying right there!
3. The Monorail
Being on the monorail line is amazing.  Going to Magic Kingdom (if you don't want to walk) or a quick ride over to the Polynesian for a Dole Whip is something we do quite frequently!  Being able to jump on the Monorail and go to the Polynesian or Grand Floridian to shop or grab a bite to eat is so convenient.  Although, I think my most favorite thing is watching the Monorail go through the resort.  All these years later I am still in awe, I could watch it for hours!
4. The stores
Bayview Gifts shop in the Contemporary is where I have bought Alex and Ani bracelets, t-shirts, luggage, souvenirs, bags and the H2O products that we love!  The pins available at the Fantasia shop are extensive and there is some great stuff to customize your magic bands, phone cases etc.  I must admit that there are multiple visits to these two stores each trip, even when we're not staying at the Contemporary!  There is a sundries shop too – so when you're staying there you can buy wine, beer, snacks, cough syrup and wet bandaids – really anything you might need.
5. The rooms
The standard tower rooms at the Contemporary Resort are inviting, modern, and among the largest at Walt Disney World.  With updated theming to include the Incredibles, it really makes for an incredible stay!  If you have a theme park view you can sit in your jammies and watch the fireworks at night right from your balcony!   It doesn't get any better than that!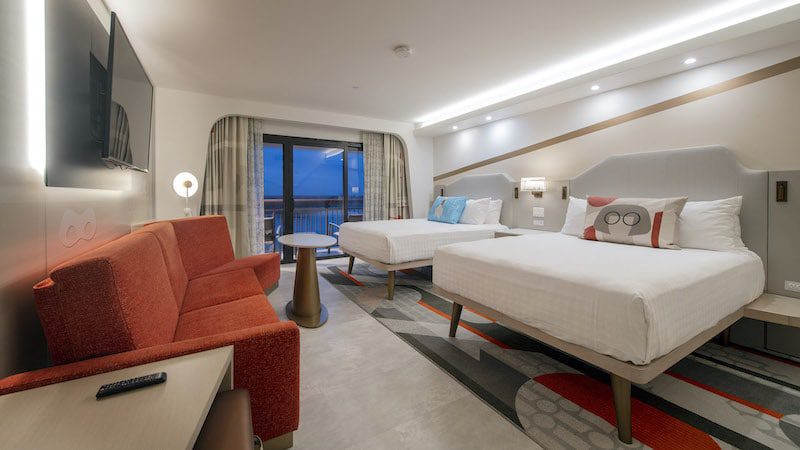 I remember as a kid when we didn't have a theme park view, my Mum would take me down to the outside stair well at the end of the hall to watch the fireworks from there.  It's quite a view!
Have you stayed at Disney's Contemporary Resort?
Did you love it?