With the recent excitement surrounding the 2019 Adventures by Disney itineraries here are the answers to the most common questions I have be asked in the last few weeks.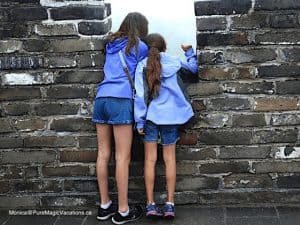 Adventures by Disney provides group guided family vacations to various domestic and international destinations with the Disney Difference, and is a fantastic way for families to travel throughout the world with ease.  Unlike other tour companies, Adventures by Disney (ABD) specializes in family travel. From the moment your adventure begins all of the logistics of the trip are looked after so that you can be completely immersed in the culture of the destination and will travel in luxury.  An ABD is more than just the places you visit…. there's magic, friendships, and fun! Everything is so easy when you are on an Adventures by Disney vacation. It's a true holiday, especially for parents!
Will my kids get bored?
My family has travelled to Australia, China, Italy and parts of Northern Europe with Adventures by Disney and I haven't seen a bored kid yet!  The Guides are all fabulous – establishing a rapport with the Junior Adventures almost immediately is priority for them.  All the kids feel welcomed and included.  Special Junior Adventurer experiences built into the tour ensure that the Junior Adventurers remain engaged throughout the tour – learning is fun!  When were in Florence last summer touring the Uffizi Gallery, the children were offered the option to become Art Detectives while the adults enjoyed a privately guided tour. All of the kids in the group, even the teens, opted for this choice.  It was a fun way for them to see and learn about the important pieces in the gallery in an interactive way. A year later, my daughters can still identify several of the paintings they learned about that day.
Family travel is great, but we will have any alone time?
The Junior Adventurer activities give parents some space and on every adventure we've been on a Junior Adventurer movie night with a corresponding dinner for the adults was scheduled.  When we were in Australia snorkelling at the Great Barrier Reef, our youngest decided she had had enough of it after only 5 minutes. Had we been travelling on our own, either my husband or I would have had to leave the reef to be with her.  Not on this adventure! Glenn, one of our fabulous Guides, helped her out of the water, wrapped her in a blanket and got her an ice cream cone, which she happily ate, while the rest of the family happily continued exploring the reef.   
Is it worth the money?
Absolutely! Adventures by Disney offers a great value for a unique premium product for families.  From the moment you arrive at your destination, you are truly on holiday.  The experiences are culturally authentic and immersive. The itinerary is meticulously planned. The hotel accommodations are outstanding and centrally located.  The meals are at amazing, culturally representative restaurants (don't worry, there are always options for picky eaters and those with dietary restrictions).  Privately-guided tours, private events, admission tickets and more are all included in the price. And if that isn't enough – all the logistics are looked after too! Luggage is magically transported for you. Internal flights, which are often such a hassle when travelling on your own, are a breeze. Everything that could go wrong doesn't…and even if it does – the Guides have a back-up plan ready to go.
Is it just for families?
Not at all. Adventures by Disney offers several Adult Exclusive itineraries in addition to the family focused offerings. However, couples and singles are welcome on every Adventure and we have made some great friendships with couples travelling this way on all our Adventures.  The adult demographics on this tour tend to skew towards middle age, which is a plus for many couples and single travellers who are interested in luxury group travel, but want to travel with people who are closer to their age.
All of the Adventures look amazing, which one should I start with?
All of the Adventures are indeed amazing, but they are not all the same.  Some Adventures are very leisurely, some are very active.  Some have a lot of very early start times or multiple internal flights, while others do not. Which one to choose depends on your travel style and interests.  You can join this Facebook group of serious ABD travellers to help narrow down which one is for you.  However, no matter which one you choose you are sure to have the Adventure of your life.
This review was written by Monica Loberto – you can find Monical on Facebook