My wife Carol has a Tickle Trunk. It's filled with wonderful Disney memories!

Most Canadian readers will remember Mr. Dressup, Casey, Finnigan and that magical Tickle Trunk . . . but for those of you who grew up somewhere else, I will explain…
Mr. Dressup was the star of a children's television show which ran on the Canadian Broadcasting Corporation network from 1967 to 1996. His sidekicks were two hand puppets, Casey and Finnegan, a child and a dog who lived in a treehouse in Mr. Dressup's back yard.
In most episodesMr. Dressup would pull a costume out of a big, brightly-painted steamer trunk which he called his Tickle Trunk. The costume might be for an animal, policeman or fireman. Donning the costume (after all, he was Mr. Dressup), he would play the role suggested by the outfit.
The Tickle Trunk appeared to be charmed – it always had the right costumes, in the right sizes, neatly folded at the top. That simple steamer trunk really was mystical and magical; it transported a few generations of Canadian children to some very imaginative places for three decades!
Mr. Rogers Neighborhood aired in Canada too, but if you ask any Canadian kid of that era they will assure you, "Mr. Dressup was waaay more fun!"
Like many Disney fans Carol saves every piece of paper from each Disney trip. Tickets, park maps, resort check-in packages, brochures, flyers, napkins . . . you name it, she probably has it! When she gets home all of that material finds a permanent spot in a big wooden trunk – Carol's Tickle Trunk!
Of course, Carol's Tickle Trunk is mystical and magical too! Whenever she opens the lid we are instantly transported to our happy place! The best of memories come floating out!
As you might expect, the trunk has been full for years. It takes some management! When we get home from a trip some new treasures go in and some older treasures get culled and placed in new homes.
When Carol started collecting pins in earnest in 2001 she scoured the Tickle Trunk and pulled out some classic old pins. They now have a special place of honor in her pin collection.
Her collection of Disney buttons, acquired over the decades, now live in a button bucket!
The resort registration packages from each Disney trip, along with park maps, timetables, and plenty of other paper now fill a filing cabinet drawer. Each trip is in its own folder.
But there's still plenty of treasure in that magical wooden trunk!
A year or two ago I was writing a blog about Disney park tickets, so naturally we had to go to the Tickle Trunk to find a few old ones. On the way to the bottom of that trunk, where those Walt Disney World tickets from 1977 live, we uncovered some buried treasure!
What did we find? Here's a small sampling:
Ten Old Copies Of The "Walt Disney World News"
This four-page newsletter was produced by Disney, a fresh copy each month in the early years, and included in check-in packages at all Disney resorts. The tabloid sized papers are full of fascinating information!
Magic Kingdom Club/Disney Club Membership packages
Who knew Disney had so many clubs . . . The Magic Kingdom Club, the Magic Years Club and the Disney Club. Carol has old membership cards, brochures and magazines for all of them!
Dinner

á

la Disney & Breakfast

á

la Disney Tickets
Before there were character meals there was Dinner ála Disney! Dinner was served in the Trophy Room at the Golf Resort, now known as Shades of Green. Breakfast ála Disney was served aboard the Empress Lily, which later transformed into Fulton's Crab Shack and is now known as Paddlefish. There were no character meals in the Magic Kingdom in those early years.
River Country / Discovery Island Tickets
River Country was the original Disney water park, located beside Fort Wilderness Resort & Campground. Two slides dropped guests into a man-made pool. The rest of the water adventures took place in the natural waters of Bay Lake.
Just across the water from River Country was Discovery Island, a tropical paradise filled with exotic birds and blossoms.
Disney Matchbook Covers
In days of yore cigarette smoking was allowed in most areas at Walt Disney World and most resorts and restaurants had matches available for guests. Carol's collection lives in a pretty metal box in the Tickle Trunk.
Children's "Wonders of Walt Disney World" Books
This program of day-long seminars was offered by to children from 10 to 15 years of age. Son Rob went on two of the four seminars they offered in the early 90's and Carol has the proof!

Disney Post Cards
Yes, there are postcards. Lots and lots of Disney postcards.
But there's something all those things have in common. All of that stuff, all those oddities and curios which remain in that trunk; they are all filled with fond memories of happy days. Sweet recollections from magical Disney trips!
You probably have a Tickle Trunk too! To paraphrase William Shakespeare, "A Tickle Trunk by any other name holds memories that are just as sweet."
What's in your Tickle Trunk?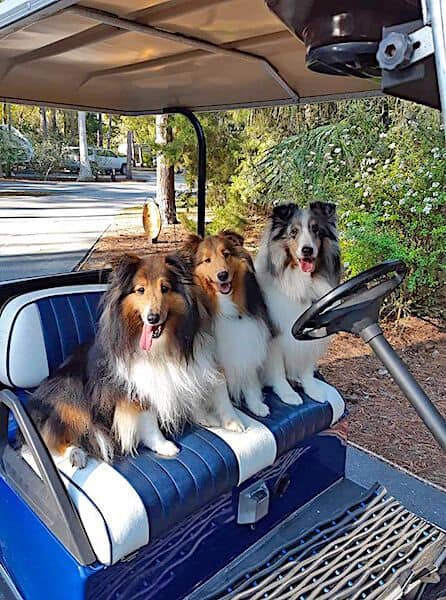 Gary Cruise
Gary is a retired banker who lives in Kingston, Ontario, Canada. He first visited Walt Disney World in 1977 and has returned many, many times over the years. Since retiring he and his wife Carol enjoy the parks a number of times each year. They especially like staying at Fort Wilderness Resort & Campground with their Shetland sheep dogs.