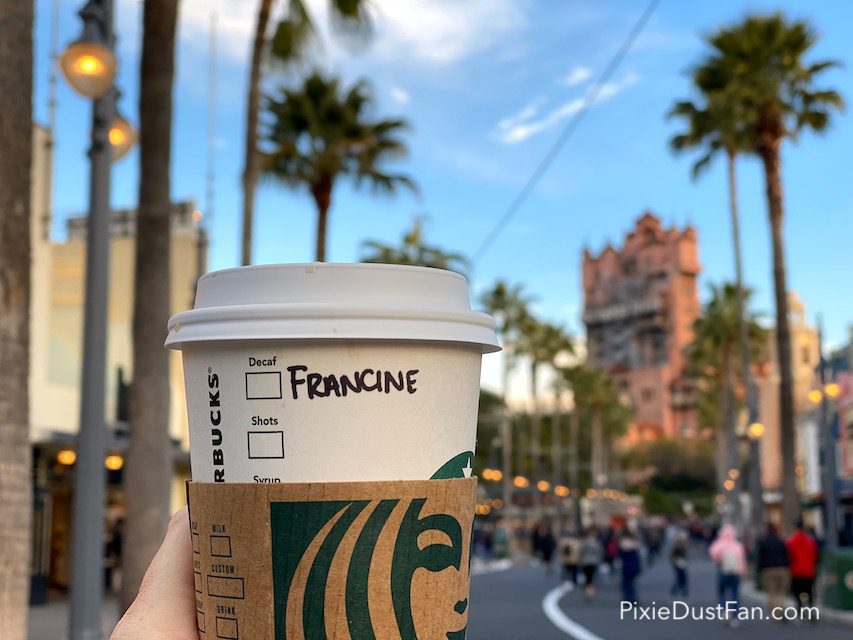 So many people are loyal to their Starbucks coffee and that early morning caffeine might be a requirement for getting through a full day in the Disney parks.  If you have little ones, you know that you may need to go back later in the day for a second cup.
Is there a Starbucks Inside Disney's Hollywood Studios?
Yes there is, but it isn't called Starbucks.  The place to get your favourite Starbucks drinks is called the Trolley Car Cafe.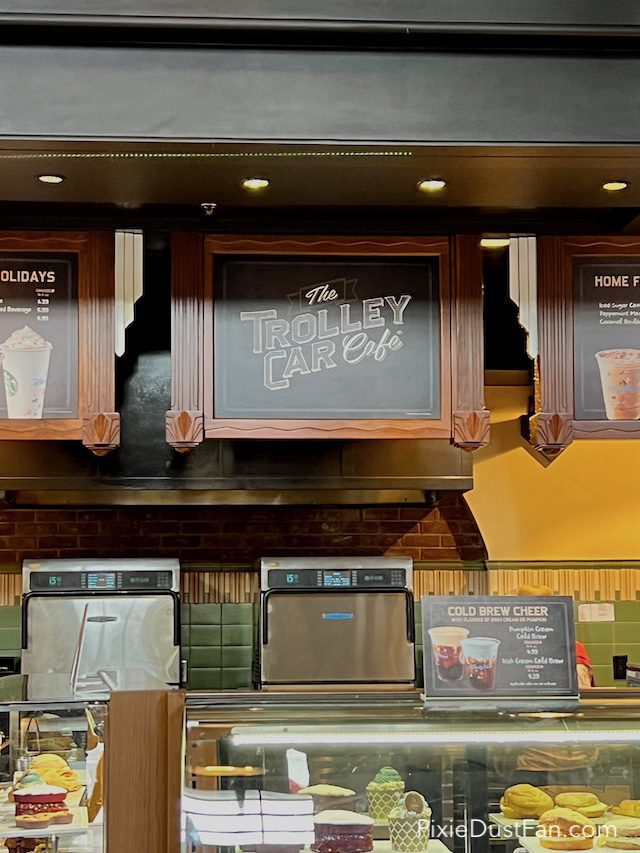 There is actually a place to get your fix in each of the 4 Disney theme parks, and none are called Starbucks.
They all have different names:
1.  The Trolley Car Cafe is in Hollywood Studios
2.  The Main Street Bakery is in the Magic Kingdom
3.  Connections Cafe in Epcot
4.  Creature Comforts in Disney's Animal Kingdom
5.  Bonus – there are 2 Disney Springs locations
The one in Hollywood Studios is themed after a classic trolley car station and is located on the right side of Hollywood Boulevard as you reach Sunset Boulevard.  If you hit the Brown Derby you've gone too far.
What you need to know about the Trolley Car Cafe
1.  First things first – the Carrot Cake cookie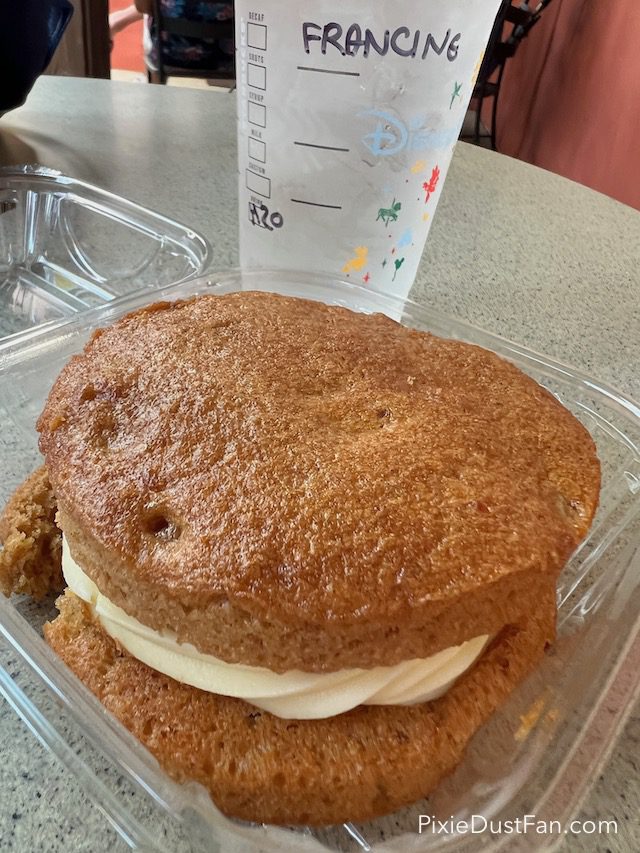 This thing has been through some changes over the years, but it's absolutely worth trying in whatever current form it takes on.  It's basically two pieces of carrot cake with cream cheese frosting.  Sometimes it's called a whoopie pie and sometimes a cookie, but either way it's delicious.
2.  Use the Starbucks app
If you search for 'Starbucks' in the My Disney Experience App you'll find the two at Disney Springs that are actually called Starbucks.  If you want to find the ones in the Walt Disney World parks, you need to use the Starbucks app for the in-park Starbucks locations.
3.  It's a great place to grab a breakfast bite
They offer some great breakfast sandwiches, pastry items and wraps to go with your favorite Starbucks drinks, but beware of the long lines!  When the park first opens (especially if you're doing rope drop) the lines can be LONG.  While we are used to lines on our Disney vacation, they do move relatively quickly.  If you're a creature of habit and need your fix – it's worth the wait.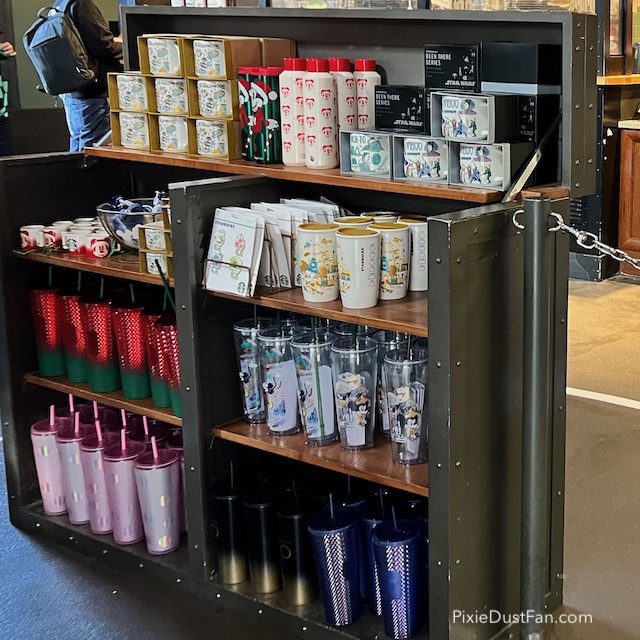 4.  Use your app in store
The Starbucks app works in the stores for your Starbucks gift cards, but mobile ordering is not available at any of the park locations.  You can mobile order at the 2 locations in Disney Springs – West Side and Marketplace Area.
5.  Disney gift cards work too
I have yet to find anywhere on Disney property that won't accept my gift card and the Starbucks is no exception.  Obviously your credit card is good anywhere – they make it really easy to spend your money.
6.  Don't forget to buy your mug to say you've been there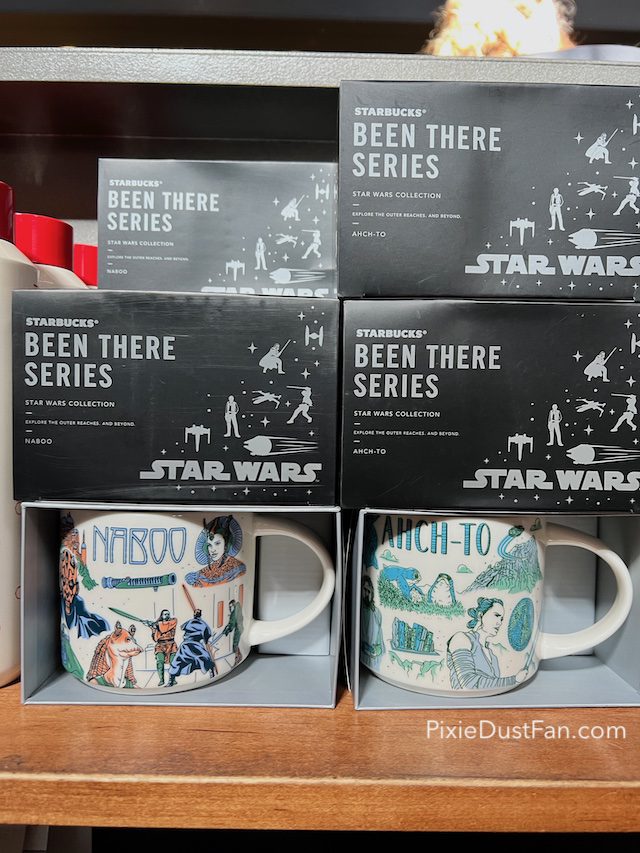 While Disney mugs make for such a great souvenir, the Starbucks "been there" mugs are next level.  Take a look in the shop to see if they have any for purchase.
7. Check the special treats during the holidays
They always have something tasty and new during the holidays, and it's always good.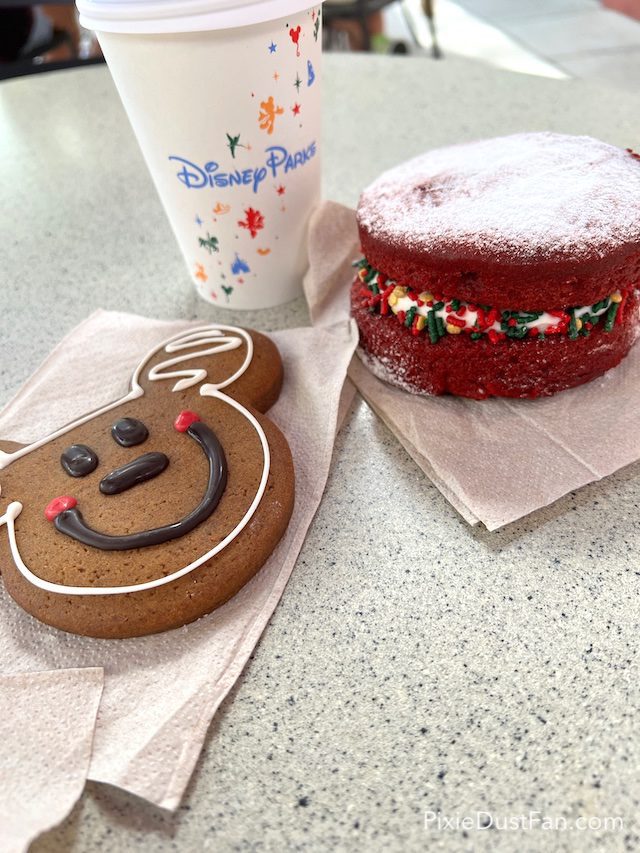 Notice I didn't talk at all about the coffee?  That's because I drink tea.  While I wish I liked coffee and could get a cold brew caffeine hit on a hot day, it just isn't for me.  The Starbucks and Joffrey's kiosks are really the only place for me to get a decent cup of tea other than the one I make myself with my kettle in my room (but I digress, that's a whole other story).
​Will you be lining up for your favorite Starbucks beverages on your next Disney vacation?