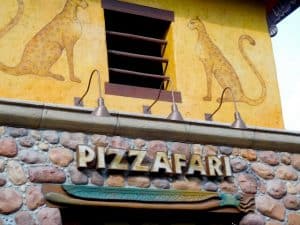 I always want to try something new to introduce to my clients. This last trip I tried Pizzafari Family Style Dining at Disney's Animal Kingdom and I was pleasantly surprised.
 This location is a quick service dining location but when you arrive you head over to the podium at the far check out. You will check-in in here. After you are checked-in you go to the register to pay for your meal which requires 1 quick service dining credit for each guest or if you are not on the dining plan the cost is $19.99 per adult, $11.99 per child – plus tax (gratuity not included or required). This price was as of April 2019.
They will take your drink order and ask you how you would like your pizza. You have a choice of full pepperoni or just cheese and you also have the option of half pepperoni and half cheese. Your beverages include fountain beverages, coffee, hot tea, hot cocoa, bottled water or mandarin orange lemonade. Alcoholic beverages are also included: Bud Light, Safari Amber, Wine (Chardonnay or Merlot) or Mandarin Orange Lemonade with Vodka.
You are then given your drinks and your salads and a cast member will bring you to your seat. 
You are seated in a separate section of the restaurant which is nice. You don't have to go searching for a table. Your table has your plate and "real" utensils and cloth napkins. You will need to pick up your salt, pepper and any extras you like at the condiment bar before you sit down. The amount of food you are given depends on your party size. This meal it was just my mother and I. You will receive Capresse Salad and Caesar Salad.
The food will come out quick, not a long wait to eat. We didn't have our salads finished and our food was there. They bring your meal to you on a little cart. There is Baked Ziti, Fettuccini alfredo with Chicken and Pizza, for dessert there is miniature cannolis.
So, if you are hungrier than a hippo this is the place to be!! This family style dinner is served from 5:00pm – 7:00pm.  You can make advance dining reservations and they also accommodate walk-ins. I can tell you I will be back!!!
What other locations would you recommend for dining at Disney's Animal Kingdom?  Let us know!
This was written by Anna Scott, you can find her on Facebook