I have been a Disney fan for as long as I can remember.  My first trip to the Magic Kingdom was in 1974 when I was 3 years old.  At that time there was only the Magic Kingdom where I met Oscar Myer and one of my favorite attractions was "If You Had Wings".  We always stayed at Disney's Contemporary Resort where I got my Alice In Wonderland dress in the shop that is now the game room.
Over the years my addiction has grown and as an adult I started visiting multiple times per year.  My sister Becky is also a Disney addict and the person who talked my Dad in to visiting in 1974.  We share our obsession and travel together to Walt Disney World, Disneyland, sail on Disney Cruise Line and have even flown to Hawaii for the sole purpose of visiting Disney's Aulani.
By day, I am a professional 'number cruncher' for a large company in Toronto, Ontario. Casual Friday is my favorite day of the week because I get to sport my Disney attire (much to the dismay of my boss!).  My full time job is less than magical to say the least, but it gives me the income to pay for my Disney addiction.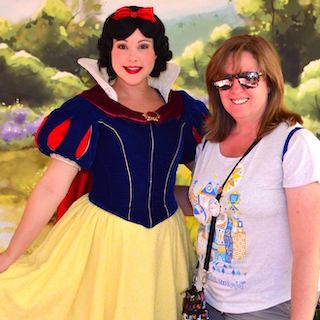 I was telling a friend at work one day about how big the Disney community is and how there are people who have websites and blogs devoted to their love of Disney.  I told him how I really envy these people who share their passion with others and have Disney in their lives every single day.  He asked me "why couldn't you do the same?".  I started to give him all of the reasons I couldn't, all of my insecurities came flooding in when he pointed to the plaque in my office that says "If you can dream it, you can do it".  It was then that Pixie Dust Fan was born.
I am very lucky to have the support of my sister Becky, my family, friends, and the Disney community.  I am forever grateful to those who continue to encourage and inspire me to take this journey, you really are pure magic in my life.
Please join me in sharing this addiction proudly and bring some Pixie Dust in to your days.