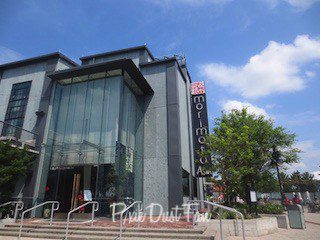 Being that my family is from Scotland, I grew up on a healthy diet of meat and potatoes.   Dinner at my house was roast beef and chips, fish and chips, mince and potatoes, steak pie and mashed potatoes – you get the idea, it's not a meal without potatoes.  I was the picky eater in the family, but my sister Becky has always been much more adventurous with food and really wanted to try Morimoto.  I figured if I didn't like it, I could always grab a burger somewhere after.
We decided to go for lunch and when we arrived were one of the first in the restaurant.  It is gorgeous inside and the high ceilings and chandeliers were breathtaking.  When we were seated and handed our menus I knew we would have to try a couple of the appetizers – after all, if you're going to dine here, you may as well get the full experience!
We ordered the ribs and chicken wings for appetizers and I think they set our expectations REALLY high.  The ribs were amazing; I don't think I've ever tasted anything like it.  I normally don't eat ribs (I don't like to have to pick meat off of a bone), but I could eat these with just a fork.  The meat literally fell off of the bone; it was spiced perfectly and was full of flavor.  The seasoning on the chicken wings was subtle and they were nice and crispy – just the way we like them!  We were anxious to get our entrees because we knew they would be delicious!
I ordered the chicken and noodles while Becky had the Shrimp Pad Tai.  My chicken was a little overcooked and chewy, but the noodles were awesome.  They almost knocked my top noodles from O'hana out of their spot!  Becky said there was tons of shrimp in hers and it was the best tofu she had ever tasted.  All in all, we were pretty happy with our meals.
For dessert I had to have the churro with chocolate sauce.  They brought me a package of chocolate sauce and I have to be honest, I
wasn't sure what I was supposed to do?  Do I drizzle it on top?  Eat it with a knife and fork?  Or do I put the chocolate sauce on my plate and hold the churro with my fingers and dip it in?  I even asked the waitress (who thought I was nuts) and then told me she'd seen people eat it all different ways.  I opted for using my fingers, why not?  The churros were nice and warm and a really good sweet option for the end of my meal.
Becky opted for the Chocolate Cream and Crunch dessert that the waitress recommended.  The waitress was right, and she loved it and said the gelato was amazing.
Overall we were happy with our lunch at Morimoto.  There were things on the menu that I could eat, and Becky was happy she got to experience it.  We talked about visiting Morimoto again, but next time we will focus on the appetizers and order more ribs!