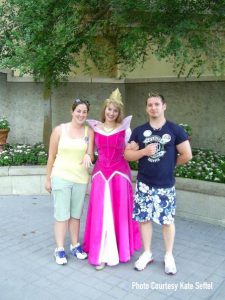 Wedding season is upon us, which means that honeymoon season is upon us as well.
According to tripsavvy.com, couples spend an average of $4,466 (USD) on their honeymoon, with eight days being the average length of trip.
And while many people think of far-off destinations when they picture the perfect honeymoon, the majority of North American couples have stayed in North America for their honeymoons over the last five years. In fact, Florida is the second most popular US honeymoon destination in the United States (after Hawaii).
Disney without the kids?
Even though Walt Disney World is known for creating magical moments with families and children, it can be the most magical place on earth for couples, too.
Gorgeously themed resorts, world class shopping, and signature dining experiences. What's not to love?
We caught up with one Pixie Dust Fan, Kate Seftel, who honeymooned at Walt Disney World in 2007. Kate, an elementary school teacher, and her husband Chris, a personal trainer and wellness coordinator, reside an hour west of Toronto.
PMV Natalie: Why did you choose Walt Disney World for your honeymoon?
Kate: Chris and I decided on Walt Disney World because we are both active people who enjoy a "Go Go Go" vacation so that we can see and do everything! We also love rides!
PMV Natalie: Give us the details! What resort did you stay at?
Kate: For our honeymoon, we decided to do a six day/7 night vacation and we stayed at Disney's Coronado Springs Resort. We did all four parks over the six days, and doubled up on Epcot and Magic Kingdom.
We also spent time at Downtown Disney and the West Side (now Disney Springs). We even spent a morning at Typhoon Lagoon.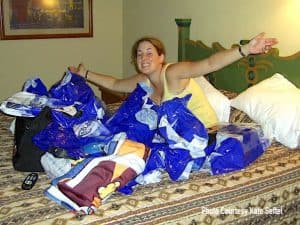 PMV Natalie: What are some of the "magical" moments you remember?
Kate: One of the things that made our honeymoon super special was that we wore "Just Married" buttons (provided by Walt Disney World Resorts) wherever we went. Every cast member that saw us wished us "Congratulations" and some chatted with us about our special day while we waited in line. It made every day extra special! Some restaurants wrote "Congratulations" on our dessert plates, too!
PMV Natalie: Was going to Walt Disney World for your honeymoon something you had to talk Chris into, or was Chris equally on board?
Kate: This was definitely an easy choice for both of us. We had both been to Walt Disney World as kids in the '90s and we both really wanted to go back!.
PMV Natalie: Would you recommend a Walt Disney World vacation for couples? Not just for a honeymoon, but for any couple looking to get away?
Kate: For people that know us, we are a Walt Disney-obsessed couple. Our first trip was our honeymoon in 2007 and we returned in 2008, 2010 and 2012. We stayed off site once, and then at Disney's Port Orleans Resort – French Quarter twice.
Disney is a place that is magical for so many reasons and you can make the trip whatever you want to be! If you want some days off by the pool, you can do that. If you want first class shopping, Disney Springs provides that. You don't need to rent a car….or you can, and go to surrounding attractions like Universal Studios.
It really is a flexible as you want it to be.
PMV Natalie: Have you been back since 2012?
Kate: As I said before, we traveled to Walt Disney World four times as a couple. We had our fifth trip together in July 2016, but not just as a couple – that time we brought our 3.5-year-old son for his first trip. We had an amazing time as a family, staying at Disney's Animal Kingdom Lodge and seeing it all again through his eyes!
We have taken our son a few times now, and have another family trip coming up this summer!
Natalie Thomas
Natalie's favourite park at Walt Disney World is Magic Kingdom. She finds nothing more magical than walking up Main Street USA and taking in the sights, sounds and smells. Natalie has a deep appreciation for how organized and efficient the Disney experience is each time she is there, and how nice and accommodating Cast Members can be!
A "grown ups only" Disney trip with her husband is currently just a dream, as her trips currently revolve around her two young daughters. Natalie's oldest daughter is now transitioning from princesses to thrill rides – so every trip to Walt Disney World is a brand new experience.