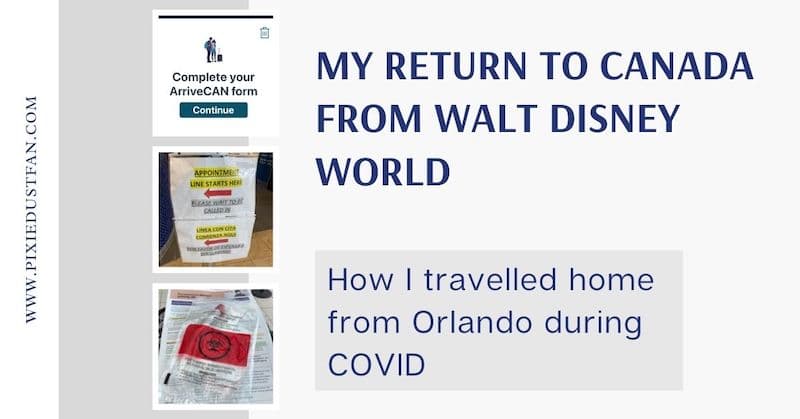 Travelling from Walt Disney World back to Canada in 2021.
I had the most epic adventure returning to Walt Disney World after 562 long days, but at some point I knew it would end. I had to prepare for my return to Canada.
If you haven't read my experience GETTING to Florida – you can find it here.
I will reiterate like I did in that post, I need to be very clear that this was MY EXPERIENCE. I will provide the links I used to investigate my options, but it's important that you do your own research. Things can change and you need to have the most up to date information.
My return flight with WestJet was on September 4, 2021 to fly from Orlando to Toronto.
First I had to understand what the airline and the government required for me to get home.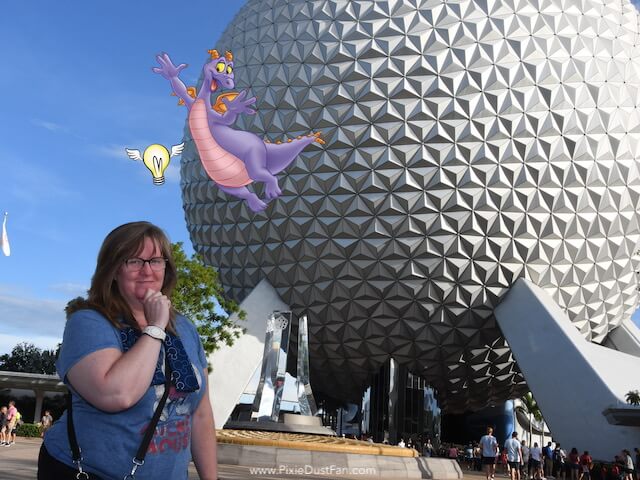 The travel.gc.ca website listed the requirements.
If you are fully vaccinated you are exempt from quarantine and the 8 day testing requirement providing you have no signs or symptoms of Covid-19 and have completed your last dose of the vaccine 14 days prior.
If you are not vaccinated there are mandatory quarantines and testing required. Validate your eligibility here. If you are travelling with children who are not vaccinated, there are testing and quarantine requirements as well.
The testing requirement to enter Canada is:
All travellers 5 years of age or older, regardless of citizenship, must provide proof of a COVID-19 test result to enter Canada.

All travellers must provide one of the accepted types of tests, not an antigen test, including those who are fully vaccinated.
The accepted list of tests is long – and confusing for those of us that failed science!
These tests are considered acceptable molecular tests:

PCR – Polymerase chain reaction
RT-PCR – reverse transcription real time PCR
Quantitative PCR (qPCR)
Nucleic acid test (NAT) or Nucleic acid amplification test (NAATs)
Reverse transcription loop-mediated isothermal amplification (RT-LAMP)
Isothermal amplification
Droplet digital PCR or digital droplet PCR (ddPCR)
Transcription-mediated amplification (TMA)
RNA (Ribonucleic acid)
Ct (cycle threshold)
CRISPR
Sequencing
Next generational sequencing (NGS) or whole genome sequencing (WGS)
Oxford Nanopore sequencing (LamPORE)
Detection of the N gene
Detection of Orf1a/b
Detection of the S gene
Detection of the E gene
Detection of the RdRp gene

These tests use methods such as a nasopharyngeal (NP) swab, nose swab, or saliva sample. At this time, proof of having a vaccine will not replace a negative test result.
I did a TON of Googling and I was more confused than ever! What I recognized in all of that was PCR – that's what all of the sites I was researching were offering. I decided I needed to be methodical because I was getting overwhelmed. I ruled out some of the obvious "scam" sites and narrowed my search to 6 places I needed to investigate further:
Orlando Airport Testing
Fast Test Now
Covid Testing LLC
Alliance Health
Beeper MD
Walgreens
I read every post I could find on these 6 places on social media about experiences. I read the reviews of the businesses and even tried to call a few (it's amazing how many businesses don't answer the phone!).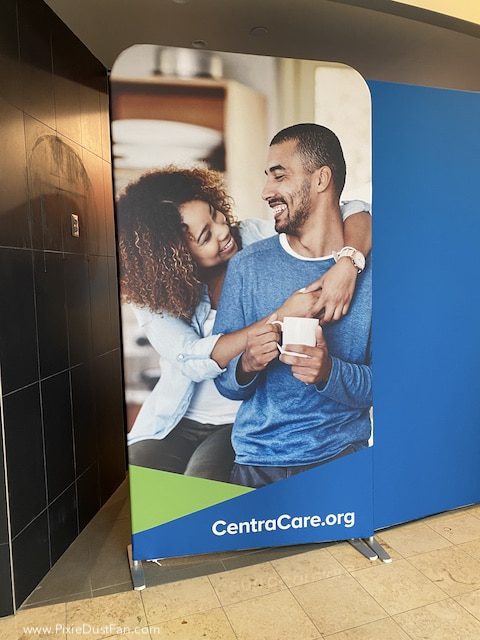 I knew that I needed a place that was reliable, efficient and would give me my results THAT DAY. I was going to be getting off of my Disney Cruise on Friday morning and flying home Saturday – there was no time to waste. That fact ruled out Walgreens and a couple of other sites.
I decided that Fast Test Now or the Advent Health/Centra Care at Orlando Airport were my 2 top choices.
I had some friends who used the airport testing so I figured that was as good as any.
While the website does say they accept walk ups –
Yes, appointments can be made online in advance. Due to demand, we accept walk-ins based on availability, and cannot guarantee a test without an appointment
We made our appointments over a week in advance and secured our spot. We had 10:50 appointments giving us enough time to get off the ship, rent the car and drive to the airport. FYI – parking at Orlando airport is not fun, I would take a taxi next time so I didn't need to worry, we arrived 5 minutes late.
The site is located in Terminal A Atrium before security, next to the Universal store on the 3rd level.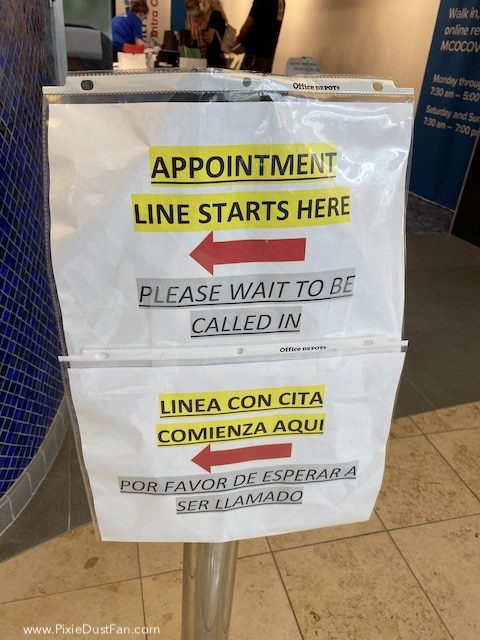 When we arrived – it was a bit chaotic. I can't blame the people working there, they had 20 people asking questions and the anxiety level was high. They didn't have any PCR tests available for walk ups. Passengers were upset – they were going to miss their flights and they had one person fielding all the questions AND getting us all in line.
Here's the process and the timeline for my experience at Advent Health at the Orlando Airport:
10:55 We arrived and got in line. There were about 15 people ahead of us.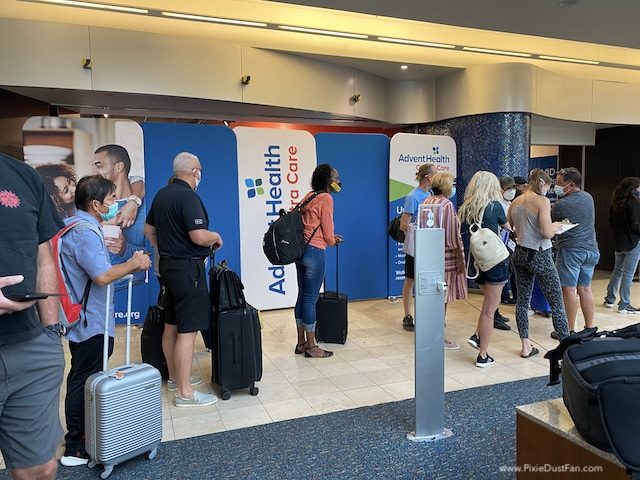 11:15 We were given a form to fill out in line and were done filling that out by 11:20 when she came back to collect it.
11:25 We were called in one at a time to pay for the test. We were getting the Rapid RT-PCR test that was $175 USD.
11:30 They called about 12 of us who had paid into a holding area.
11:35 They gave each of us a seat number – we were sent in to the room to wait for the swab (I was in seat 1). They confirmed again who was getting an Antigen test vs a PCR. We were told Antigen was taking about 30 minutes for results while PCR was averaging about 45 minutes.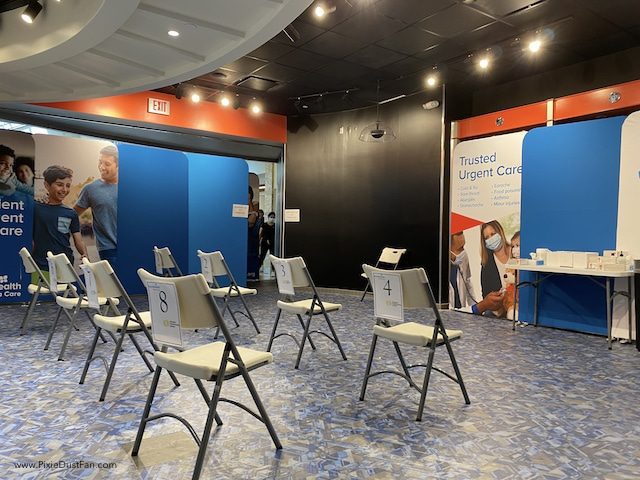 11:40 My swab was done and I was sent back into the airport to wait for my results. It's very important to note they DO NOT EMAIL THEM. You must wait in the terminal for the paper copy.
12:25 They came out with a stack of papers yelling our names to collect our results. YAY! We are negative.
That was my experience at the airport, but I did have two friends who used Fast Test Now with no problems at all. They took a taxi/uber/lyft to the office that was close to Universal Studios and were in and out in less than 30 minutes. My friend Brenda was really impressed with her process. The results were emailed to her so she didn't have to wait for them at the site. She paid for the RT-PCR Test Same Day Results by 11PM for $199 USD. They took a few minutes for the swab and then went over to Hollywood Studios in time for their Rise of the Resistance boarding group 5.
After our tests we left the airport relieved and went back for our last night at Walt Disney World where we completed the ArriveCan requirements.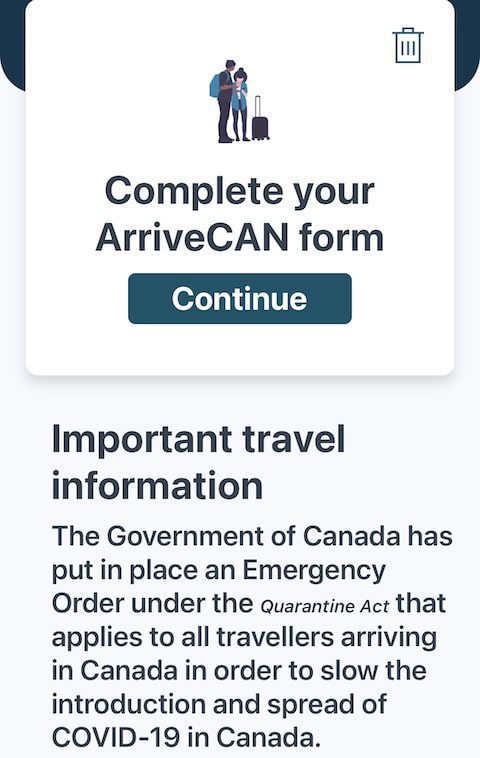 Before return to Canada you must complete your information on ArriveCAN. There is an app as well as online form.
Some of the information they collect:
Arrival airport, flight number, date
Identification like Passport/Nexus/PR Card etc
Vaccine status, vaccine type and dates of each dose
Quarantine plan
Self assessment to ensure you have no symptoms
After you complete the process you get a confirmation on the app and they email you the same. This is to be shown to the airline at check in and at customs when you arrive in Canada.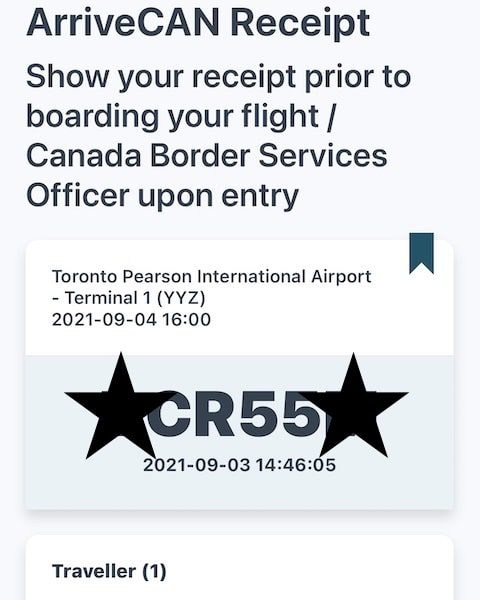 The next morning we drove back to the airport. At the WestJet check in they checked my ArriveCan receipt and validated my PCR results. Unfortunately there was a couple at the next agent who were being turned away as they didn't get the PCR test. They were told to try the testing site in the airport, but I didn't have much faith they would get the PCR in a walk up scenario and I didn't see them board the flight.
The rest of the process was the same as always until landing in Toronto. We were kept on the plane while they explained customs was backed up and we needed to wait for some to clear. After about 15 minutes they started letting us off of the plane 50 people at a time.
When I got to the customs area I understood why they did that, it was packed. I couldn't help but notice the irony of the situation.
I spent all my time in Florida telling people how serious we are in Canada about physical distancing, we have been locked down for so long. When I arrived home, they immediatedly escort you in to a mandatory line with no ability to distance from any of the 600 other people who just got off of flights from multiple different countries. I spent 4 weeks in the Florida "hotbed" and had the highest risk in the customs line in Canada.
Thankfully I had my Nexus and my line was shorter, but still in the same room. The customs agent asked a lot of questions about my trip – including why I would travel alone to Disney. Is that even a real question? I told him it was for my mental health. He checked all of my documents, test results and ArriveCan receipt and they told me I was randomly selected for another Covid test.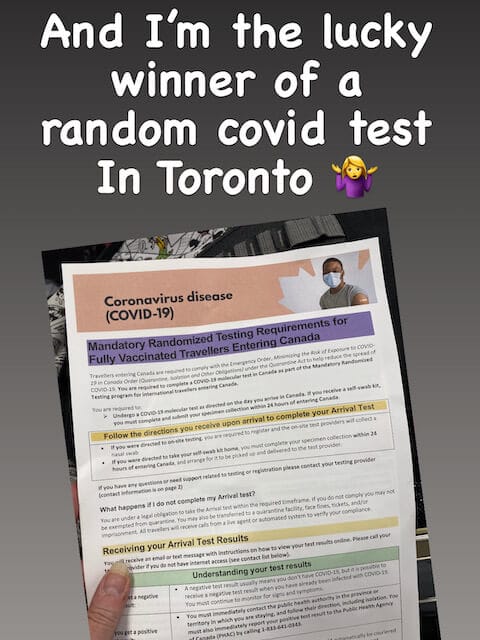 I got to the carousel and all of the luggage was out – that tells you how long that process took! I got my luggage and followed the signs to the testing.
Upon arrival you need to register for a Switch Health account. They direct you to a booth where you are swabbed – it's just the outer nostril, nothing terrible. The worst part of that experience was seeing the signs in the booth asking people not to yell at the staff. How horrible we live in a world where you have to ask people to be nice to those who are doing their job.
The entire process probably added 20 minutes to my arrival and I was on my way. The results were emailed to me in 24 hours and the test was negative.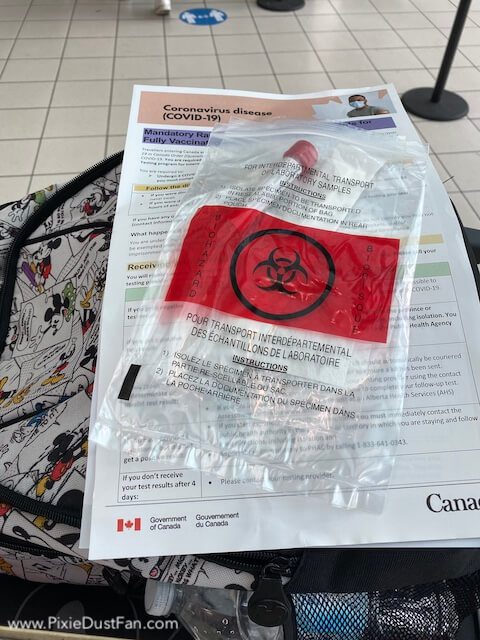 I think my conclusion is that I would be happy to use either Advent Health at the Orlando Airport or Fast Test Now on my next trip. My only concern with the airport is that I wouldn't want to do it the DAY of my flight – I think it would be too stressful if there were lines. I might try Fast Test Now on my trip in October for comparison.
If you want to hear more about my arrival and my time on the Disney Cruise – check out my podcast episodes here.
For full details on my departure from Canada to the United States, check out this blog post.
Would you travel to Walt Disney World from Canada now?