The Disney Wish is the newest ship in the Disney Cruise Line family that will officially set sail in 2022. On World Wish Day – Disney released new and exciting details about the Wish that we have all been waiting for.
Here's what has ME most excited:
The Staterooms
Disney Cruise Line staterooms are always beautiful – but these ones? The new colors and art work make the rooms look so fresh and inviting.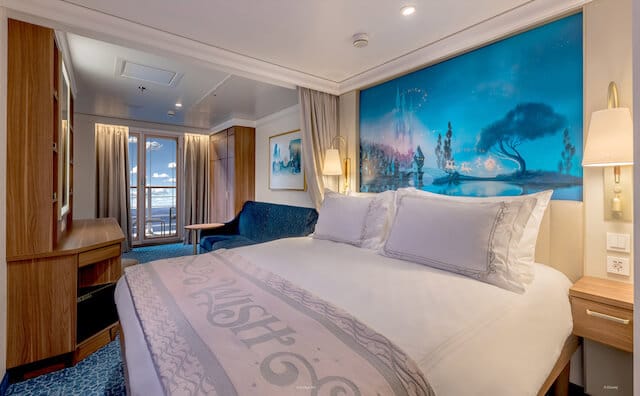 That bed runner – I may need to buy one of those!
I have had the opportunity to sail in a 1 bedroom suite on the Disney Dream and that was an incredible experience, but let's just say this new ship has some pretty spiffy concierge staterooms!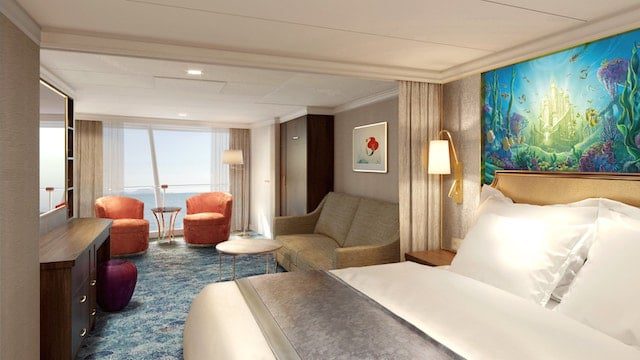 The Dining
Let's face it, a big part of any cruise is the food – and Disney Cruises are no different. All of the ships have fantastic food options and a variety of experiences on board. The Wish will be building on the exisitng dining model and enhancing it.
Frozen dining where Anna, Elsa, Kristoff and Olaf are all in attendance and there will be musical performances. I'm not sure I'm sold on how I will be able to sing along and eat at the same time – or maybe the point is they don't want us singing? 😉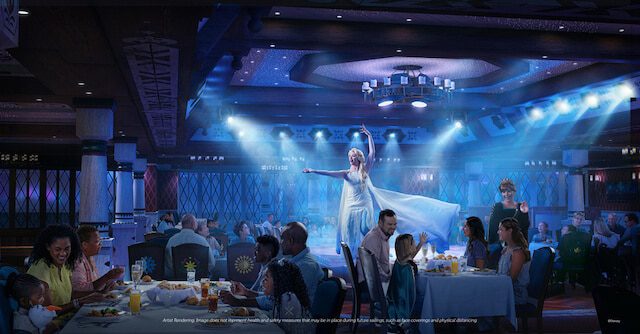 While Anna and Elsa are entertaining in their restaraunt, there will be a Marvel experience going on in another dining room that is sure to embrace technology for a very unique experience. There may be some Avengers at dinner, which means I need to get caught up on my Marvel stuff so I know who is coming to dinner!
I think the one that I am most excited about is 1923 that will "Evoke the glitz and glamour of Old Hollywood". 1923 is the year that Walt Disney Studios was founded and that history will be intertwined in this decor. Full of sketches and props that tell the story of the early animation processes, this restaraunt is sure to be a favorite of the Disney fans who love the history of the company. Based on the rendering below, 1923 is going to capture the charm of the era beautifully.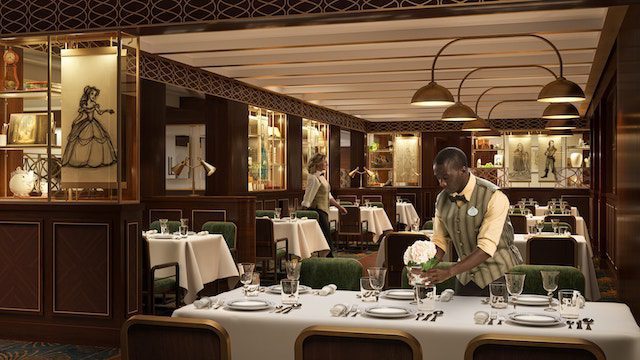 The Kids Clubs
I don't have children, but I feel the need to call out the kids clubs. Honestly, the kids clubs on a Disney Ship are above expectations in terms of experiences. I have done tours of the clubs and I have to say – they REALLY need a sailing where they allow the adults in the clubs. #JustSaying
Anyway – as expected, Disney makes sure that the kids are having fun and the Disney Wish will carry on that tradition of having clubs that all the adults WANT to be in.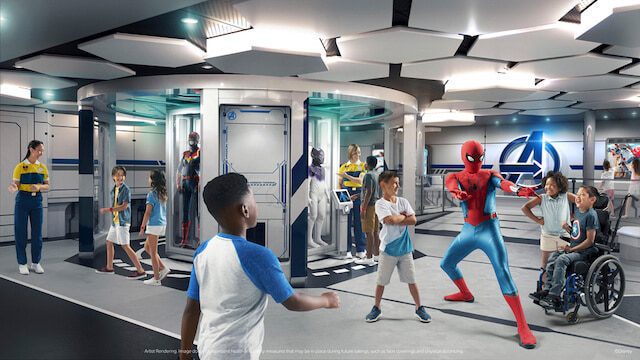 One of the coolest places I think they are introducing is Walt Disney Imagineering Lab. This is where the kids can dream and imagine LIKE an Imagineer. In this space kids aged 3-12 will be able to design their own roller coaster and then virtually RIDE it. There have been variations of this premise over the years with Disney Quest and the Sum Of All Thrills at Epcot, but both are no longer available. It's a shame because they were terrific experiences, and I can't wait to see how it plays out on the Wish.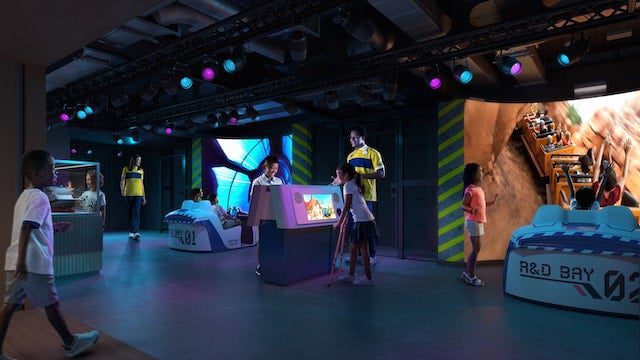 The Adult Spaces
Disney Cruises aren't just for kids you know! On each Disney ship there are spots and experiences that are made just for the adults. From a "Quiet Cove" pool district to lounges, the spa and fine dining, there are plenty of things to do while the kids enjoy the clubs.
The gourmet meals at Palo is something that I enjoy every time I'm on the Dream, so I'm happy to see it on the Wish. With these experiences inspired by Beauty and the Beast, you know it's going to be elegant.
But aside from all of that – there is one spot on the Disney Dream that is my favorite. The Skyline lounge.
Skyline is on both the Dream and the Fantasy and offers "windows with a view". I have spent HOURS in the one on the Dream watching the skyline change every 15 minutes to see the gorgeous views of London to Barcelona, or Hong Kong to New York! The details are incredible with lights coming on and off in the buildings and the cars on the road, it's incredible.
With Skyline being my favorite bar on the Dream, AND I'm a Star Wars fan – the new "Star Wars Hyperspace Lounge" on the Wish is where you'll find me! In here we'll be watching the galaxy go by as we visit Coruscant, Tattoine and Batuu!
Families are invited during the day, but in the evenings this will be an adult only experience.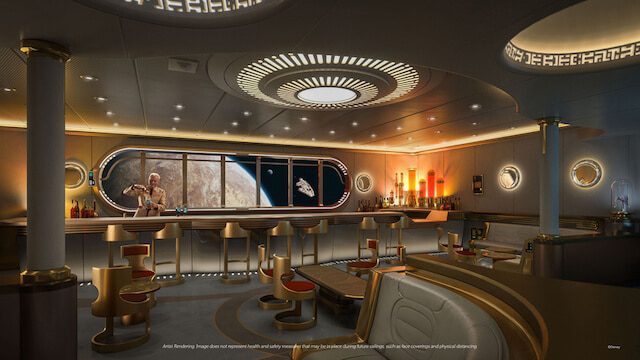 It's almost as if they called me and said "What's your favorite night time spot on the Dream and how can we combine it with your love of Star Wars for you?". Ya… it's going to be epic!
There are going to be SO many reasons to love this new ship that I can't list them all here. I think it's safe to say this is a ship I want to be on! I will do full reviews of everything once I get a chance to experience them all. And yes – I will even make sure to experience the AquaMouse, I'll have to try it once right?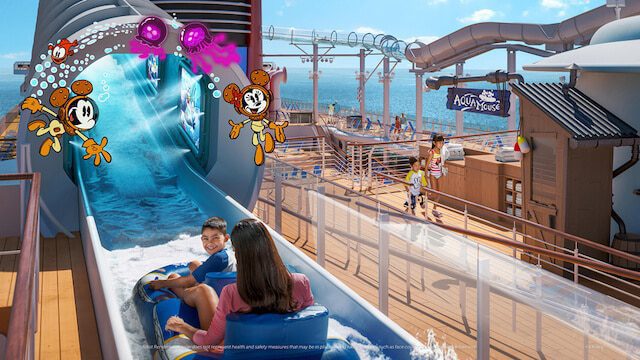 This water ride is an 'attraction at sea'… and you're going to have to SEA it to believe it. (see what I did there?, I know – cheesy! But I'm so excited)
The maiden voyage will be a five-night cruise to Nassau, Bahamas, and Disney's private island, Castaway Cay — on June 9, 2022. After that it will have three and four night cruises to the same destinations from Port Canaveral, Florida.
Are you ready to book? Contact my friends at Playcation Travel Ltd to get your no obligation quote!
See the full video from Disney below
All pictures © Disney