UPDATE JANUARY 11, 2021:  Disney's Magical Express will no longer be offered beginning January 2022.  See updates here
Disney's Magical Express is a complimentary transportation to and from Orlando International Airport (MCO) for guests staying at a select Walt Disney World Resort hotels.  I've got a full post on What IS Disney's Magical Express, but here you're going to learn:
How do you use Disney's Magical Express?
Here's step by step what you need to know to enjoy this fantastic COMPLIMENTARY service!
Make your reservation
If you've booked your Walt Disney World resort package with a good Disney Travel Agent, they will make the reservation for you.  If you booked yourself, you would need to submit the request for transportation with Disney direct or online here.
When you request Disney's Magical Express you need to provide:
Resort Name
Resort Reservation Number
Number of Guests (they must be on the reservation to use the Magical Express)
Airline
Flight Number
Mailing address for the luggage tags
Recieve your information package:
UPDATE – Beginning July 2020 – Luggage transfers will not be provided.  You must pick up your luggage at the carousel and take it with you to the bus.  It's unclear if this will revert back at a later time.
Your luggage tags will arrive in advance of your trip if you have provided enough time for them to send them – usually 2 or 3 weeks is sufficient but the more time the better!
The luggage tags will have all of the information that Disney needs to retrieve your luggage from the carousel and deliver it to your ROOM at your Walt Disney World Resort IF you put the tags on your luggage before you check them at your departure airport.  This service of luggage delivery is NOT available if your flight lands between 10PM and 5AM.
Some things to keep in mind if you choose to have Disney bring your luggage:
Your luggage may not arrive until 3 hours after you do
Keep medications and important documents with you
If you plan activities for as soon as you arrive at the resort – make sure you have the necessary things with you (like your bathing suit!)
If you have your Magic Band already – keep it with you and don't pack it in your luggage
If you did NOT get your luggage tags in advance, not to worry!  You can still have Disney pick up your luggage for you – just head to the Magical Express Service location and give the representative your claim tickets from the airline!
You can also choose to NOT put the tags on and pick your luggage up yourself and take it to the motorcoach with you.  If you decide that you are going to retrieve your own luggage – do NOT put the tags on. 
Get on the plane in your home town – you're going to WALT DISNEY WORLD!
Make sure you're prepared for ALL of the things that go with flying… here's a list of some simple (but often forgot) things you should plan for
Arrival at Orlando International Airport
When you land (YAY!) it's so exciting, you just can't WAIT to get to Walt Disney World.  Now – you need to find the Magical Express!
Orlando Airport (MCO) is probably one of the best signed airports I've been to, they have signs everywhere.
DOMESTIC ARRIVALS:
Jump on the first 'ride' of the trip – the train from your arrival gate to the main terminal
Upon arrival in the main terminal, follow the signs
Either pick up your bags at the carousels here
OR
Keep following the signs to the Ground Transportation Area in Terminal B on level 1
INTERNATIONAL ARRIVALS:
When you get off the plane, enter the US Immigration Checkpoint
After you get your luggage – proceed to the Customs Checkpoint
After completing the customs and immigrations process, decide if you're taking your luggage with you or if you want Disney to transfer it.  If you would like Disney to transfer it, put it BACK on the carousel.
NOW YOU get to experience the first 'ride' of the trip – the train from your arrival gate to the main terminal
Upon arrival in the main terminal, follow the signs to the Ground Transportation Area in Terminal B on level 1
Arrive at the Magical Express Counter in Terminal B Level 1
As you pass all of the car rental companies etc – you'll see the Magical Express counter.  Here is where you will present either your Magic Bands OR your resort reservation confirmation.  Don't worry if you don't have your Magic Bands in advance, Disney can only ship to some countries.  If they can't be shipped – they will be waiting at your resort for you.
When you check in with your Magic Bands or Resort confirmation, the cast member will validate the members of your party are all there and then direct you to a 'lane' – the bus line for your resort.  Resorts in the same area share buses, so there could be 3 or 4 stops on the bus route, but it's generally pretty quick.  People on the bus don't dilly-dally because they are anxious to start their vacation!
Get on that bus!
When your bus arrives the cast member will direct you to the bus in the bay.  Here's where the driver will load your luggage in to the base of the bus if you've brought it with you.  If you didn't bring it – it will be coming separately and NOT on this bus.  Take your seat on the bus – remember that the first couple of rows are reserved for guests with mobility issues and they will be marked as such.
Each seat is comfy and you get a great view of the overhead TVs that will show you some fun things you need to know before you start your vacation.  It's the perfect way to get you excited for what's to come!
Individual lighting and vents are above the seat for comfort and there is a restroom at the back of almost all of the buses.
No car seats required, the little ones can sit on their own seat or your lap.
Sit back, enjoy the show on the TV – you'll be at the resort in no time!
The driver will call out the name of the resorts as they pull in – make sure you're getting off at YOUR resort!  Gratuities are appreciated by these drivers.
Now you've arrived – go check in and start your vacation!!  Remember if you didn't bring your luggage it will arrive up to 3 hours later.
Have FUN!  UNTIL…….
IT'S time to go home
The wonderful people at Disney's Magical Express will drop by your resort room the day before you are set to check out and hang the 'eviction' notice on your door.
Inside the envelope will be all of the information you need for a smooth ride to the airport.
HOLD ON TO THIS PAPER – this is your confirmation and "ticket" to get on the bus.
Make note of the pick up time – and be there EXTRA early!
Disney does NOT want to be responsible for people missing flights, so they keep a very tight schedule.  If the bus says it's leaving at 7:50 – its leaving at 7:50.  Don't be late.
The morning of departure
Arrive EARLY to the bus stop at your resort with your luggage.  It will be transported with you on the bus to Orlando International Airport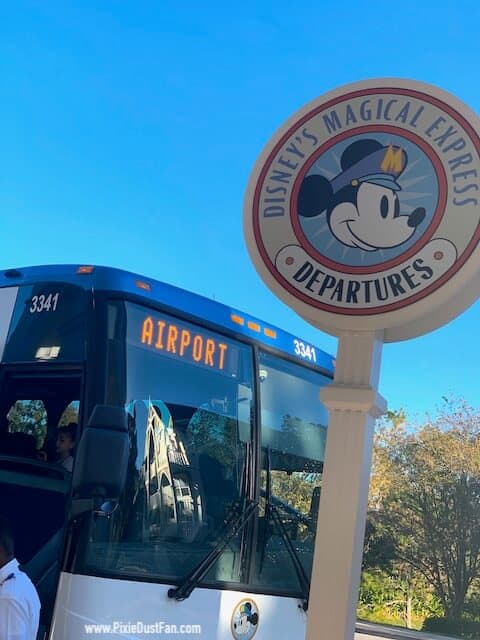 Have your paperwork with you – make sure you have that letter they left you the night before!  It confirms your seats and time on Disney's Magical Express
When the bus arrives, the driver will load your luggage and you can take a seat on what is now known as "Disney's Tragical Express".  You know – it's tragic 'cause the vacation is over right??
Sit back in your seat and watch the cartoons… they try to cheer you up and make you laugh!
Upon arrival at the airport the driver will unload your luggage and be appreciative of any gratuities.
Take your luggaage, wave goodbye to the Mickey bus and find your check in counter for your airline.
*For select resorts and guests, there is a Resort Airline Check In service available so that you can check in for your flight at your resort.   If you plan to use this service, make sure you allow plenty of time for it before your scheduled departure.
Enjoy Orlando International Airport
Even though the vacation is over, there is still plenty of shopping and fun things to see in the airport!  On your train ride back to the terminal, Orlando Mayor Buddy Dyer will thank you for coming.  It's funny, I'm always happy to hear is voice on the train when I arrive and when I leave… it's like the two bookends of the trip!
Have you used Disney's Magical Express?