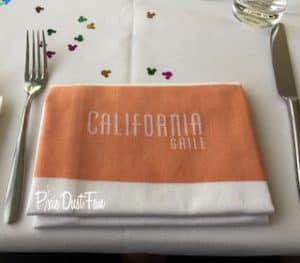 There are thousands of Disney fan sites on the Internet, Pixie Dust Fan included. Many are very reputable sites that offer accurate information and advice for planning your Disney vacation. Sadly – not all sites are created equal and sometimes it's hard for a new Disney fan to tell the difference.
Over the years I have watched some of these sites grow and gain a following and at least once a year they start the whole 'free dining' hype. They post rumors and 'insider details' about a potential free dining promotion that is going to be announced. Every April my Twitter and Facebook feeds explode with this 'free dining is coming' posts, including ones that show dates for next year! Some of these sites get it right and must have an inside track, but others are just plain wrong. They start the frenzy and modify the details as they go and create such chaos that the rest of us are left shaking our heads!
There are some things you should know about Free Dining that these less responsible sites won't tell you:
1 Free dining has quite a few restrictions
The resort you wanted may not be available, or you have to upgrade to a better room category or add the hopper option to your tickets. Availability for the promos are generally very limited and in the last year it looks like Disney is restricting them further to move people away from expecting free dining.
2 Not all restrictions are created equal
Did you know that some Disney promos are targeted to particular visitors? That's right – the UK visitors usually get a slightly better promo with much more advanced notice, I assume because they have to travel farther. Canadians also get longer booking windows sometimes, even after the offer has expired for US residents.
3 Good luck getting dining reservations
People want to make sure if they get their free dining promo that they're able to use it! I really can't blame them; I would want to do it as well. The problem is that when it's just a rumor, many people will start booking dining reservations 'in case'. That means they're booking weeks of reservations to cover potential dates and availability. Since most of these don't need to be cancelled until 24 hours in advance – they have tied up many reservations for months that you and I might like to have!
4 A GOOD travel agent will cringe when they see these rumors
– There is very limited availability on those first few days because other agencies have put holds on packages based on the frenzy of inquiries they generated with the rumors. Some of these reservations will inevitably be cancelled a few days later and free up the inventory for other guests. It's safe to say the good agencies spend the next few days pulling their hair out.
– They are going to sit on the phone for HOURS trying to get their clients the 'free dining' deal when the website crashes. This will be the better part of their day (some years I have heard of 9 hour wait times!) where they will continue to rotate and recharge cordless phones.
– Disney doesn't like its travel partners to engage in these rumors until it's officially announced. That means the reputable travel agencies are at a substantial disadvantage while trying to adhere to their ethical responsibilities to Disney.
– They will frantically have to call all of their clients who are travelling during the dates once it's announced to find out if they want to switch resorts, rooms or add ticket options if it means getting free dining.
5 Free Dining isn't always the best deal
Many times the room discount has been a better value. If a room discount is 30% – was the dining plan worth 30% of your room rate? For many people it has been much cheaper to add the dining plan to the room promotion. It can be confusing when you hear the words 'free dining' – but trust me, it's worth pricing out the difference!
I will never understand why Disney doesn't reprimand these sites for starting these rumors and leaking information. It causes confusion, stress, and in some cases a pretty bad guest experience when their expectations aren't met. For me, it ties up valuable dining reservations when I'm struggling to get one for California Grill for my trip! C'mon Disney – it's time to flex your muscles and get these sites to stop the madness!
So, the next time you see the "I heard free dining is coming" pop up in your news feed, don't panic, you haven't missed the boat. Review it when it's officially announced and see if it's a good deal for you when you consider the resorts and ticket options. If you're working with a reputable travel agent, they'll provide you with the best options. Give them a few days (or a week) to get it all sorted when the availability opens up from cancelled 'fake' reservations.
Whatever you do – please don't book a bunch of fake dining reservations! Remember that you may be forcing me to call the California Grill every day while I'm on vacation trying to find a cancellation 🙂