How to get to your Disney resort from the Orlando airport using Mears Connect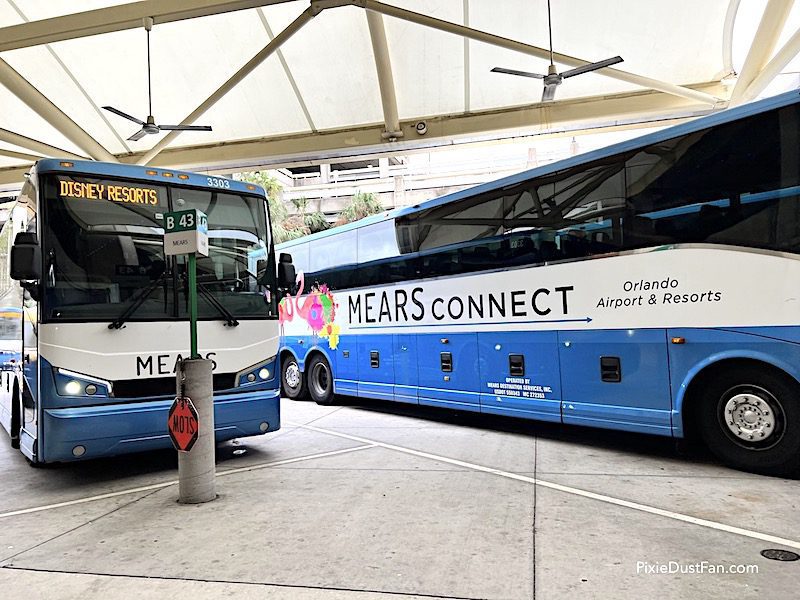 Mears has been a trusted transportation option for years in Orlando.  They offer taxis, shuttles, limousines and they used to facilitate the Magical Express before Disney discontinued the complimentary program.  It's no surprise that they would step in to fill the void the Magical Express left behind.
What you need to know about Mears Connect
When I arrive at Orlando International Airport (MCO) – I feel like I have officially started vacation!  I take a customary pic of the distinctive carpet and then roll my carry-on down to baggage claim to collect my checked bag (because let's face it, I always have a checked bag!).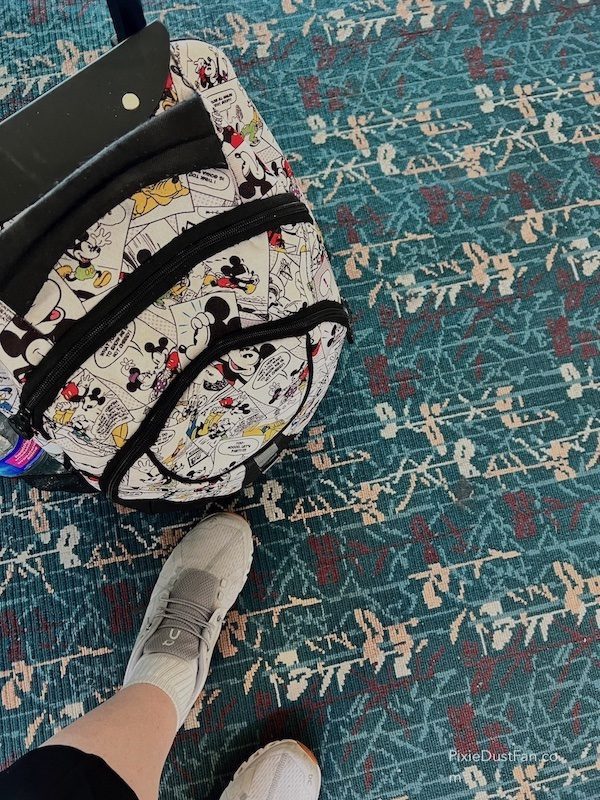 After collecting my checked bag – it's time to get to the bus.  In the airport Mears is located in Terminals B & C on Level 1 labelled Ground Transportation.
You can see from where I'm coming off the elevator – it's allllll the way at the end of the terminal.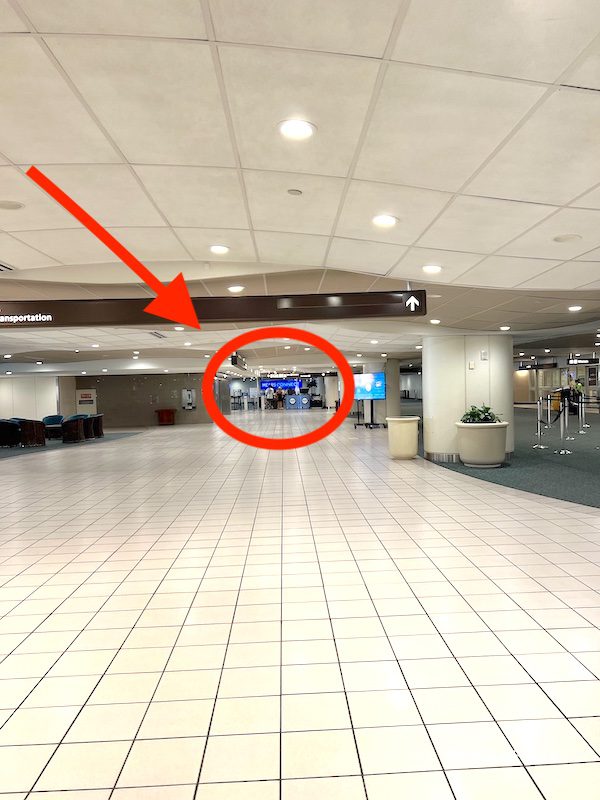 As you walk up to the counter you'll see that reservations are actually NOT required – but they are advisable.  You can make your reservations in advance online (or through your travel agent).  You will need your airline and flight number to make the reservation so that Mears will know when to expect you.  If you haven't made the reservations in advance, you can do so when you arrive at the podium.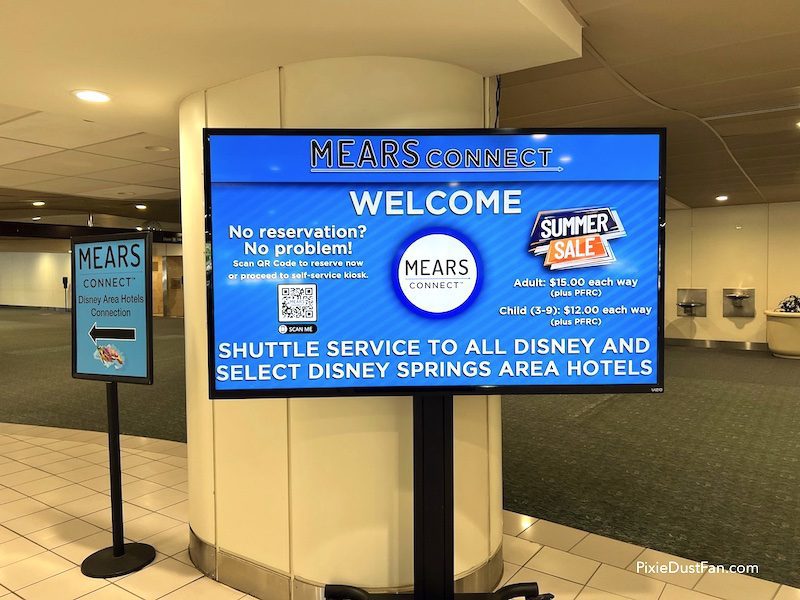 If your reservation was made in advance you will use your QR code in your confirmation email to check in.
Once you check in you will be instructed to a line that is specific for your resort.  They bundle the resorts that are close to each other so your bus will most likely stop at multiple resorts.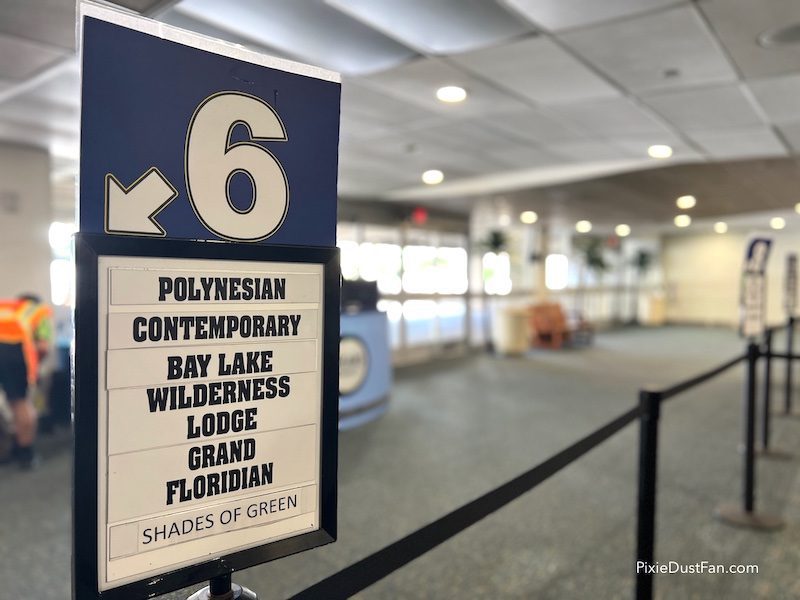 Buses depart for each resort area every 20-30 minutes.  Including stops at the resorts you should estimate your travel time to be between 30 and 60 minutes once you're on the bus.
When your bus arrives they will send you out to meet it.  There is plenty of storage under the bus for luggage and the driver will store your bags.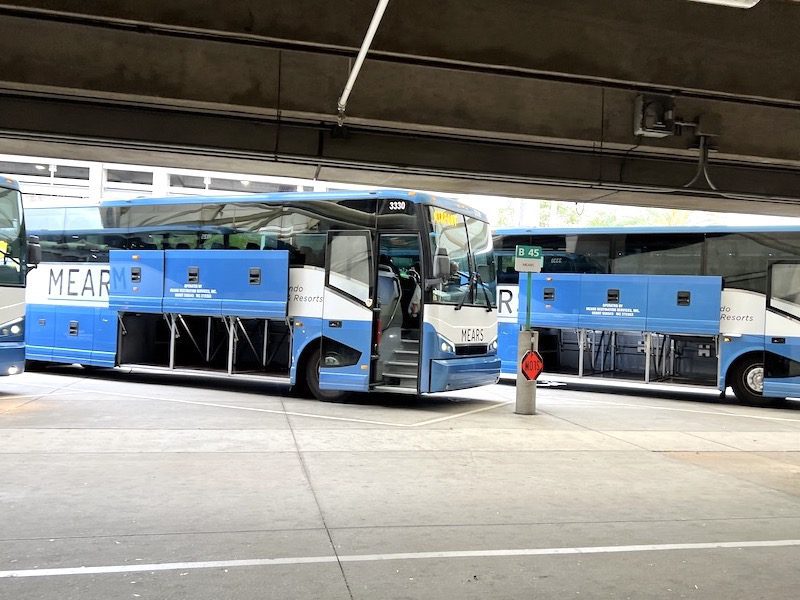 The stairs to the bus are a bit steep – might be a small problem for some on the way back out.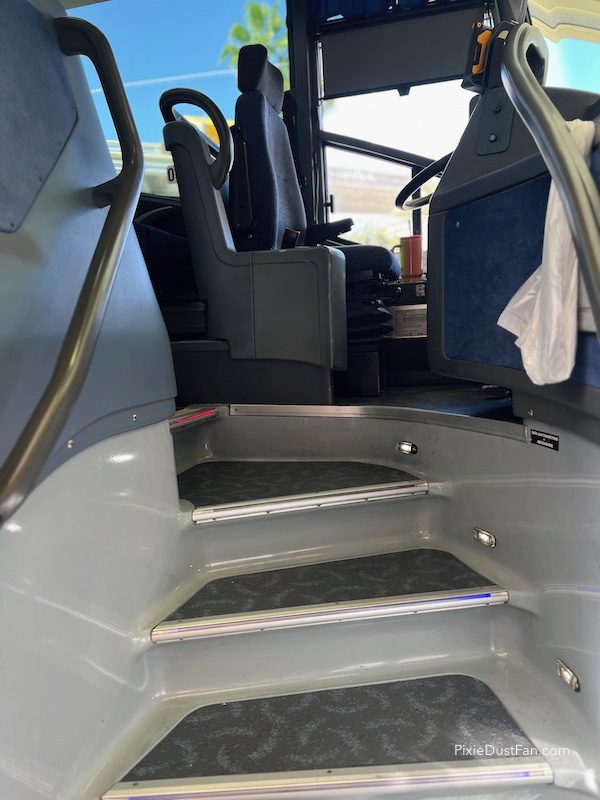 Once you're on the bus – it is really a comfy ride with plenty of room.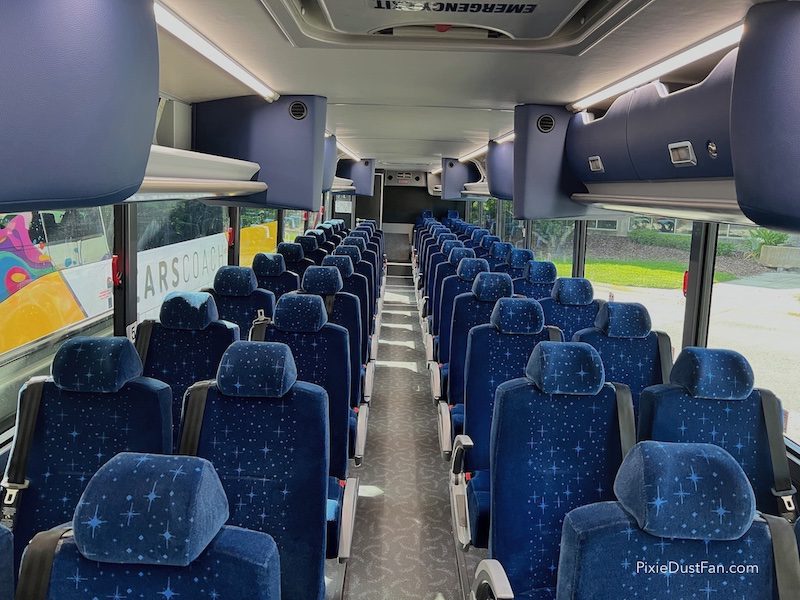 The TVs will keep you entertained with some fun cartoons on the journey and before you know it – you'll be in Walt Disney World!
For the ride home, you will be given the pick up time for your resort and you meet the bus at the stop where they dropped you off.  There will be signs for the airport shuttle like the one pictured below.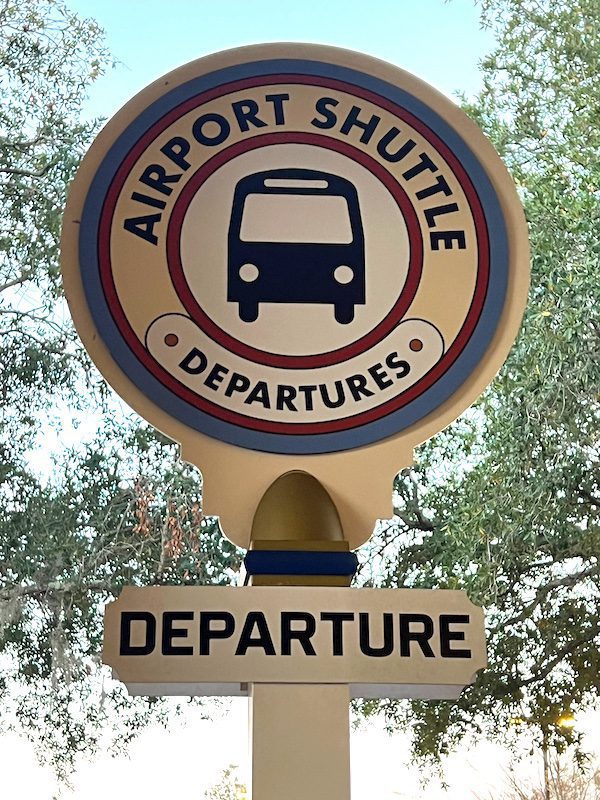 Resort departure times are scheduled approximately 3 hours prior to the flight departure time for domestic flights and 4 hours prior for international flights.  For me as a Canadian – it's quite a bit earlier than I would normally arrive, but understandable that they would schedule so much extra time.  I mean you don't want Mears to be responsible for you missing your flight!
Mears Connect does not generally adjust resort departure times for delays and they will pick you up based on the original flight departure time.  If there are excessive delays or major travel disruptions you should contact Mears customer service.
What if it isn't a full size Mears bus?
Sometimes – it isn't a bus you get with Mears, sometimes it is a shuttle.  I assume this happens when they don't have enough travellers coming in at the same time and they don't want to make you wait, which is a good thing.  But these shuttles are small and a different experience from the bus.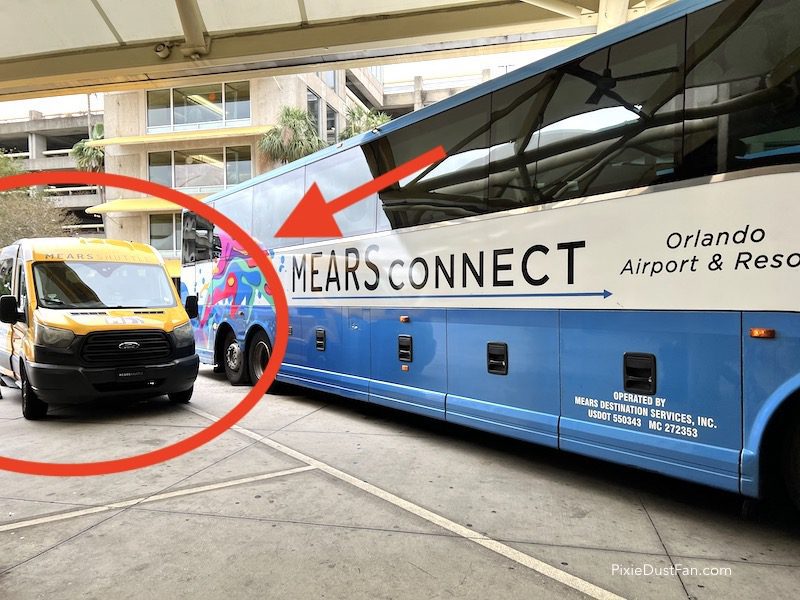 I have been in the shuttle a couple of times myself and both times there was only 1 other family in the shuttle with me.  It's important to not that not only are car seats not required on the bus, they are also not required in the smaller fleet.  Mears does have limited access to additional car seats if needed (pictured below).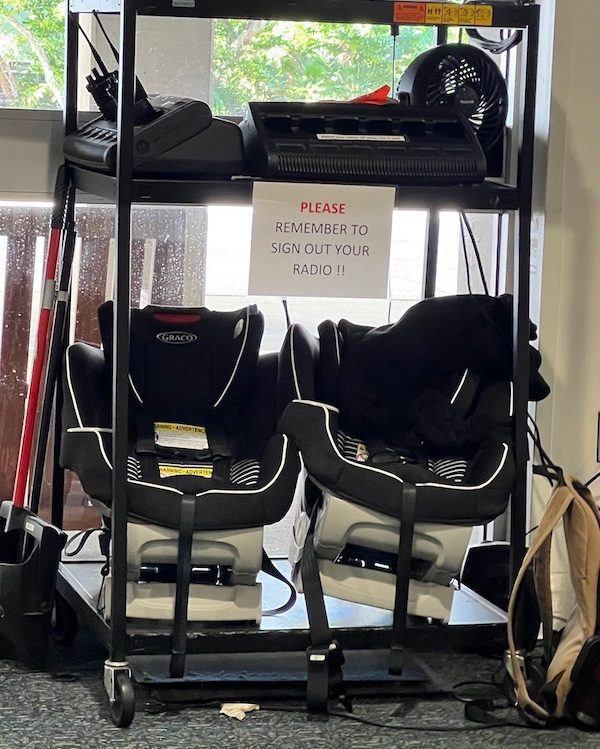 What else should I know about Mears Connect?
Drivers do not expect tips – but they are appreciated.  Make sure you have some cash with you to give them.
If you cancel more than 24 hours in advance there is no charge.  Within 24 hours of your pick up time and you will be charged the full amount.

If you need to remain in your wheelchair for travel or need to remain in your wheelchair to board the vehicle, make sure you indicate that on your reservation.
Would you recommend Mears Connect to get to your Walt Disney World resort?
Yes, I would.
There are a few things that I consider before booking Mears for myself.  If I have enough people to split the cost or I am in a rush to get to my resort, I will book a private transfer or take a Lyft/Uber.  If I'm by myself, I can't justify the price of a private transfer vs the individual cost for 1 person on Mears.
Sometimes having this kind of transportation is just easier.  The whole family can go together, you don't need to worry that your Uber won't have room for your luggage.  If you are travelling with little ones, I feel like its a little safer on a big bus if a car seat isn't required on any of the smaller transportation options.
Have you ever taken Mears Connect?
What was your experience like?