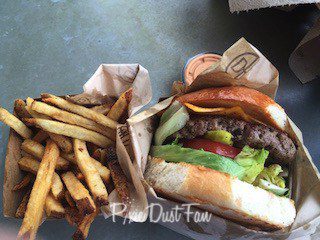 It was an eventful day for us, up at 3 to get ready for our flight to Orlando. We arrived at Saratoga Springs around noon and relaxed for a bit before heading to Disney Springs. We weren't sure what we were going to have for dinner, but we were starving so we knew it had to be something 'hearty'.
We made our way over to D-Luxe Burger in Disney Springs after hearing how big the burgers were. We figured that the appetites we had, we would have no problem with the giant burgers.
I ordered the Classic Cheeseburger with Fries and my Sister Becky ordered the Southern Classic Burger with fries. We paid with our dining plan and waited for our buzzer to go off.
The good news is that at 4:30 on a Saturday there wasn't a big line. There were seats available, but they were all outside. We selected our table and waited.
When the food was ready (fairly quickly I might add) I picked up the bags and headed to our table. I then realized they had forgot my
bottle of water – no biggie – I went back and they gave me one.
We opened the burgers and were shocked at the size – they were HUGE! The fries came with dipping sauce and we both preferred the chipotle mayo vs. the buffalo blue cheese.
We both started eating, the first bite was good – but there was a LOT of grease. If you knew me, you would know that I love greasy food – but this was a little over the top. The second bite brought more grease and it was downhill from there.
The fries were okay, mainly because of the dipping sauce. They were good, just nothing special.
I'm normally someone who loves ANYTHING when I'm really hungry – but this time it didn't work. We both left two thirds of our burgers and fries and decided this would NOT be on our list of 'must do' places at Disney Springs.
The bright side was the Red Velvet Burger Macaron that we got for dessert. My brain was a little confused by this sweetness that looked like a burger – but my taste buds really enjoyed the sweet delight. Okay – so maybe I'd go back to D-Luxe for one of those!