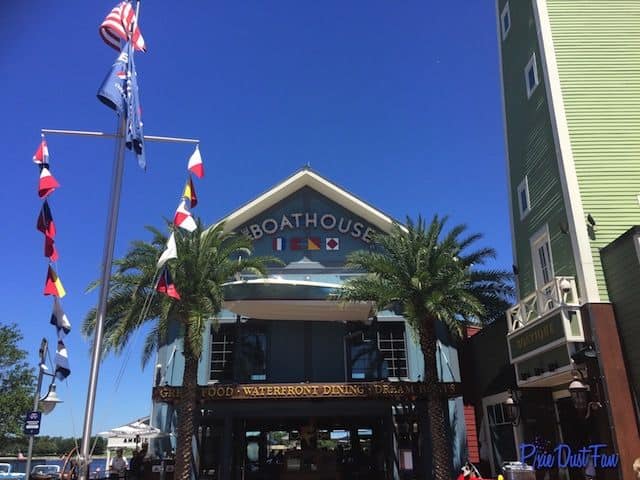 With so many great places to eat at Disney Springs, it makes for a very difficult decision if you've only got time for one.  We had a chance to have lunch at The Boathouse and I can tell you, it did not disappoint!  Often when I hear rave reviews about a place I am disappointed.  I guess I have such a high expectation that there is no way for it to be met.  This was not the case with the Boathouse.
When we arrived I was pleasantly surprised with how 'open' it felt.  There was plenty of room and lots of natural light coming in.  I don't know what the lighting would be in the evenings, but I did love the feel during the day.
The decor was fun, with nautical themes and a full size booth inside of a boat in the middle of the dining room.   There are other dining rooms in this restaurant, but we were seated next to this boat.
We started off with water and pop while we looked at the menu.  The waiter brought out some bread that was so good that I could have just had that for lunch and would have been satisfied.
My sister Becky ordered the New England Lobster Roll.  She's a big fan of lobster and said she was sure there was an entire lobster in it.
I ordered the Smokehouse Angus Brisket French Dip as recommended by our waiter.  I couldn't believe the size of it when he brought it out.
The meat was so tender and full of flavour that I started to wish I hadn't eaten so much bread.
Becky and I both got the French fries with our meals and both agreed that they were delicious!  While we both got huge portions of fries, we made a good dent in them. When the waiter came back and asked if we wanted dessert, we both thought we couldn't… but then we saw the people at the next table having theirs – and decided we had to try it! Becky had the Key Lime Pie In A Mason Jar
And I had (surprise!) the Double Chocolate Bundt Cake
To say that dessert was yummy is a huge understatement.  I couldn't stop myself eating this cake even though I was thoroughly stuffed.
I can't say there was anything about the Boathouse that we didn't enjoy.  It's making it very difficult for us to decide where to go when we visit.  We love Art Smith's Homecomin' as well as Morimoto – too many choices!!  Seems like we might just need a week vacation just to eat around Disney Springs??
PS – after this dessert, I had to get my Sprinkles cupcakes to go!
Have you eaten at The Boathouse?