Is Satu'li Canteen the BEST quick service food at Disney's Animal Kingdom?  I guess it's up for interpretation – but I would absolutely say it's mine!
The term "quick service" at Disney is really referring to almost "fast food" where you order, pick up the food and find a seat.  They differentiate it vs "table service" where you are seated and the food comes to you.
When you're visitng Disney's Animal Kingdom there are a couple of spots that I would give a nod to, but only one is my favorite – Satu'li Canteen.
Located inside Pandora – The World Of Avatar at Disney's Animal Kingdom, it's right next to the popular attraction Flight of Passage.  I recommend eating AFTER you've flown on the banshee if you're squeamish.
What's the food like at Satu'li Canteen?
Unique.  Satu'li Canteen has a variety of dishes that don't resemble many of the quick service options in the theme parks. There are no 'burgers and fries' here – but there are cheeseburger pods!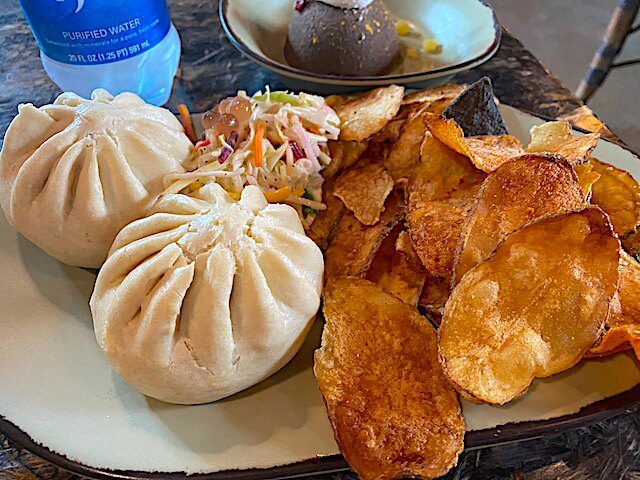 This is my go-to meal, and I make a point of doing it at least once per trip.  They took it off of the menu for a while, but I'm happy to report that it's back.
These pods are filled with ground beef and cheddar cheese.  The menu says they also have ketchup, mustard and pickle in them, but I don't taste those flavors as much and always add extra mustard to mine.  They're served with vegetable slaw and vegatable chips.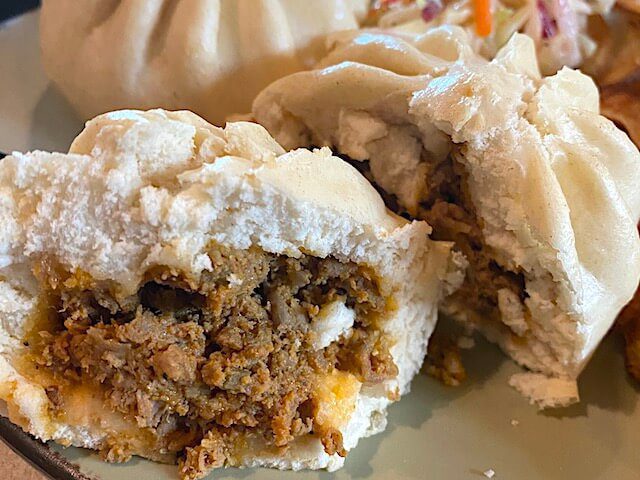 I am normally a french fry gal, but there's something about the balance of the chewy pod and the crunch chips – they are the perfect pairing.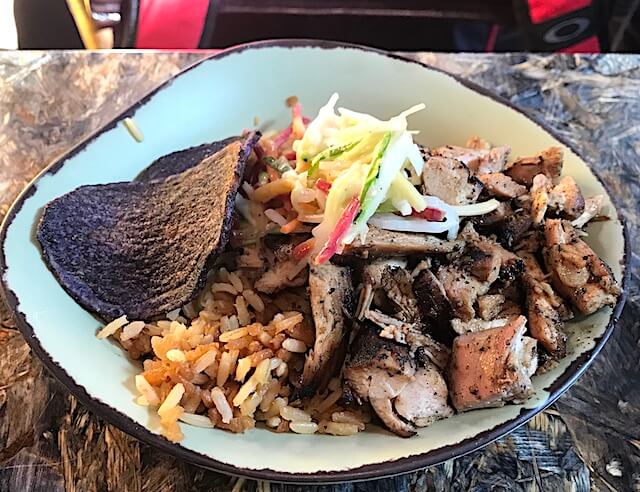 My family are always raving about the bowls – they love those.  There's a shrimp bowl, grilled beef or chicken bowl served with your choice of base and sauce.  What is impressive is they specifically call out gluten, wheat, egg, milk, peanut, fish and soy allergy friendly meals.
The kids meals have cheese quesadillas and a hot dog wrapped in dough.  We have had the hot dog when we're there with kids and it got two thumbs up!
The dessert is the other piece of this adventure that shouldn't be skipped.  While I always say I'm going to try the Blueberry Cream Cheese Mousse – I always get the Chocolate Cake instead.  I just can't help myself!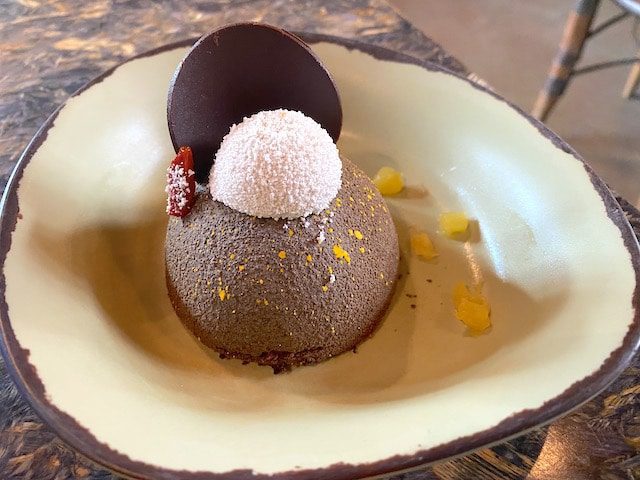 Of course all of the regular non-alcoholic drink options are available, but they also serve wine, beer and sangria.  I haven't had a drink from here – I always get one next door at Pongu Pongu.
There is plenty of seating both inside and outside of Satu'li Canteen.  The dishes are served on plates with real cutlery and not plastic which makes for a nice change at a quick service and there is mobile order available too!
Have you dined at Satu'li Canteen?  Did you love it?