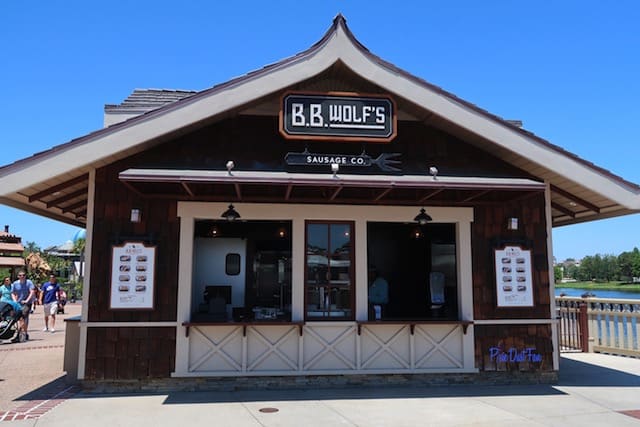 B.B. Wolf's Sausage Co at Disney Springs was one of those places that I knew I had to try,  The problem with Disney Springs is that there are too many great places to eat and snack, that I rarely find myself ready for something spontaneous when I have passed this particular kiosk.  I decided I had to make a trip to Disney Springs just to TRY this place given that my Facebook followers had encouraged it!
So I don't know HOW it went right over my head, but BB Wolf's?  Big Bad Wolf's that serves 3 Little Pigs?  Ya, I'm ashamed to admit it – but it never clicked!
The kiosk is located at the end of the bridge closer to Paddlefish and almost across from the Lego store.  It's important to note that finding a place to eat your food could be challenging on a busy night as there no dedicated area for BB Wolf's seating.  We were there in the afternoon, so we managed to grab a table right across from the kiosk that had an umbrella.  I don't particularly like eating outside, especially when it's hot, but this was more of a snack than a meal.
I was travelling with a friend who really loves hot dogs, so it wasn't difficult to convince him that we should eat here.   I wanted to try the basic hot dog – no frills, no salad – just a good old fashioned hot dog that I could compare to the ones I like at Cosmic Rays.
The hot dog was good – but the only 'toppings' available were mustard and ketchup.  No relish, onions, tomatoes, pickles – nothing extra.  While I'm a bit of a plain eater – this was a bit too plain for me.
My friends decided to be a bit more adventurous and tried the Greek Dog and the trio.
The feedback on the Greek Dog was that it was a salad – on a hot dog.  There was plenty of salad on the dog, in fact they could have just eaten the salad itself.
The Trio was different, plenty of toppings on each and the house made pickles were delicious.  I know that they have switched up what type of dogs are in the trio from time to time – so it's best to check the menu when you arrive to see if they are something you might like.
For us – the hot dogs were okay, but I wouldn't be racing back for them.  What I WOULD make sure I get to have again is the House Made Pretzel Braid.  It is served with cheese fondue and mustard, and was awesome!
This was something I could happily snack on while roaming around Disney Springs, something to fill the gap before a dinner reservation.  This way I can save the Sprinkles Cupcake for after dinner!
Have you eaten at B.B. Wolf's?  What did you think?