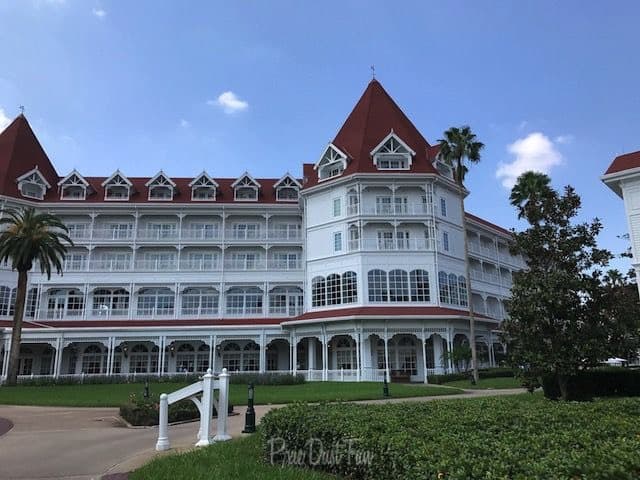 Disney's Grand Floridian Resort and Spa at Walt Disney World has to be one of the most beautiful and elegant resorts on property.  When it first opened, I assumed I would never stay there.  Princess Diana had stayed at the Grand Floridian, would I even fit in with the 'posh people'?
I couldn't have been more wrong.
Disney's Grand Floridian Resort & Spa is a place that everyone should have on their bucket list.  It's bright, classy and inviting.
Here are my 5 favourite reasons for staying here.
1.  The Disney theming is a little less obvious than it is at the Value resorts, but it's there.
Take a look at the marble floors, you'll find all sorts of Disney characters.
2.  Shopping
While the stores don't thrill me that much, Bain is a MUST for me every trip.  They have some great lotions and bath salts, but the Basin White scent is my favourite.  The scent reminds me of the Grand Floridian and when I wear it everyday – I have a little piece of it with me.
Full list of shops can be found here
3.  Monorail Access
There is something special about being able to take the Monorail to the Magic Kingdom.  It's the perfect way to arrive!  It also makes it really convenient to get to the Ticket and Transportation Centre to go to Epcot too.
Having the Contemporary Resort and the Polynesian on the monorail loop gives you a convenient way to resort hop for different dining and shopping without having to take a bus or drive.
4.  The Rooms
The rooms at the Grand Floridian are large and some offer amazing views of the Seven Seas Lagoon or the Magic Kingdom.  I have stayed in the regular rooms and the villas and was thrilled with all of them.
No matter which room, which view – they were incredible.   All rooms come with a mini fridge, in room safe, ceiling fan, and coffee maker.  In the main resort, there is turn down service – but not in the Disney Vacation Club villas.
5.  Dining Options
There are many great dining options at the Grand Floridian.
The quick service at Gasparilla Island Grill is worth visiting, we have enjoyed pizza and sandwiches here.  The dessert was delicious too!
For table service you can't go wrong with either the Grand Floridian Cafe or Narcoossee's.  I haven't tried Victoria & Albert's yet – that's on my bucket list!
For a full list of dining options, see Disney's official list here
The video below has a full walk through of a Deluxe Studio Room!
What do you think of the resort?
<iframe width="560" height="315" src="https://www.youtube.com/embed/iKULnWa5Z_c" frameborder="0" allowfullscreen></iframe>