Disney has always been a part of my life and truly became a part of my own fairytale when my (now) husband proposed at Cinderella's wishing well at Disney's Magic Kingdom. It was our second trip to Walt Disney World together and I was about to embark on the biggest physical challenge I'd ever done to collect some rundisney "bling", but he surprised me with some extra special bling! Fast forward to wedding planning, we knew we'd get married in Calgary with all our family and friends by our side, but I wanted to incorporate a little Disney magic into our special day. It was something I love and had become a part of our history together. I am thrilled to share some photos of how we snuck in some extra magic to our special day!
I spent the morning feeling like I was in that princess scene of Wreck It Ralph 2: surrounded by some amazing women in our comfy rompers, drinking coffee and mimosas and listening to Disney music while we got our hair and makeup done.
We decided to do a first look and photos with our wedding party before the ceremony. We knew we'd feel better if we could see each other before the ceremony. It was really chilly that day, hovering around -2 degrees Celsius which is not our typical September temperature.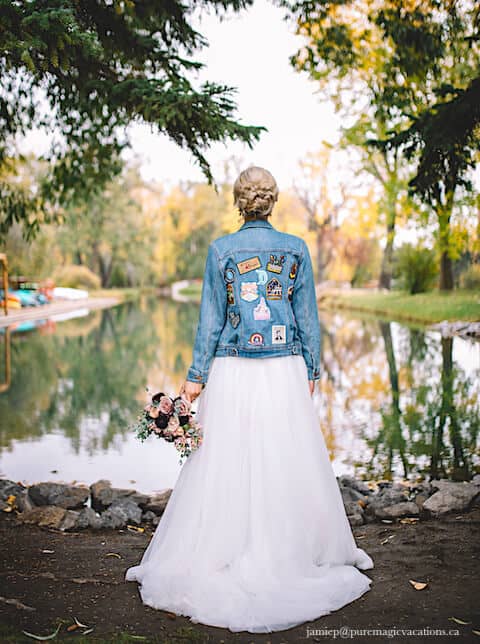 If you've listened to the Pixie Dust Fan podcast, you may have heard mention of the patch jacket I wore for the first time to the D23 Expo in 2019. This jacket really represents who I am as a Disney and Marvel fan so it made perfect sense to wear it to keep me warm while we took some pictures outside!
Despite the weather, we had an outdoor ceremony and it was perfect. I walked down the isle to an instrumental version of "I See the Light" from Disney's Tangled and, in my vows, promised my husband that he could choose every other vacation destination, knowing that mine will almost always include the word Disney. The song that played during the recessional was "Happily Ever After" from the fireworks at Disney's Magic Kingdom. We saw this fireworks together for the first time on our engagement trip!
As soon as I got this idea into my head, it seemed to be the one Disney thing I just had to have in our wedding. I wanted our seating chart to be a 'Fastpass Distribution' with guests collecting a paper fastpass and then heading to their table that was labelled with the name of the Disney 'land' associated with that attraction. I carefully chose each attraction and land so we'd have a collection of our favorite Disneyland and Disney's California Adventure attractions. The head table was the only one that differed, as we had the head table reflected as Sleeping Beauty Castle for both the table name and fastpass. I DIY'd the seating chart and the table numbers, but was fortunate to find an amazing seller on Etsy who designed the fastpass name cards for our guests. It turned out so perfect and looked great at our venue. I was so proud of it!
Guests found their specific seat with their name on a little castle with a can of La Croix because we love sparking water. Another DIY addition to our wedding!
As a surprise to my husband, I got an artist to create an image of us, and our dog Theo, as animated characters. We used this image as our welcome sign and on our wedding favors (a deck of cards!)
So many people told me how fast the day would go, and I didn't realize how true that was. It was an incredible day full of big and small moments – from sharing our vows and love in front of our friends and family, to singing and dancing to "How Far I'll Go" on the dance floor with my bridesmaids and taking an extra couple twirls in my dress throughout the day.
Thank you for letting my share my happily ever after with you! I hope it inspires you to incorporate a little more Disney into your special events or even your daily life!
Would you put this much Disney in your wedding day?  Have you?
Leave a comment – I would love to hear about it!
Jamie is a Disney fan who has a real soft spot for Disneyland in California.  When she's not running Disney, making a fantastic patchwork jacket or visiting Disneyland and Walt Disney World, Jamie is at home in Alberta planning magical vacations for her clients.  Jamie is an agent with Pure Magic Vacations where her concierge service is absolutely free!
Contact Jamie to book YOUR next adventure!