Traveling with small children can be no easy feat, but the memories you make will be worth it in the end. I took my kids to Walt Disney World for their first trip when my daughter was 5 and my son was 2.5. They were, in my eyes, the perfect age to enjoy the magic but I got some valuable insight from the experience of traveling with 2 children under 5!
I have listed my top 5 tips based on the experience with my kids.
1.  Choose Your Commute Carefully!
Depending on where you're traveling from, getting there can be a big decision. Are you going to drive or fly? It really comes down to what you think is best for your family, considering the cost and practicality of it. We chose to fly for the kids first trip so they could experience a plane and Disney's Magical Express for the first time. If you're flying make sure you pick good flight times, sometimes the cheapest, isn't always the best. We had a 6am flight out of Toronto which meant having to leave our house at 2am! This was really hard on their little bodies (so much that my daughter was sick before we even left home). They ended up sleeping on the plane, which was great but if I had to do that again, that would be the one thing I'd change! If you choose to drive (which we have done since), make sure your kids are well entertained with books, movies, colouring books, etc. Maybe try doing a long day drive to test for motion sickness ahead of time.
2.  

Bring Comforts From Home

When we were getting ready to go on our vacation, we wanted to make sure we packed comforts from home to not only help them feel safe and comfortable but also in case of any meltdowns that may happen (and they do happen). This could be a stuffed animal or toy, or even their favourite book. These small things will make a world of difference when your little one is feeling tired or overwhelmed with the busy days. My daughter had fun buckling in her stuffed sheep on the plane and one evening we came back to our room to find her barbies set up on the bed from the Mousekeeping Cast Members!
3.  Bring Your Own Snacks
We made the decision to bring our own snacks and juice boxes from home. Yes, this added to the weight of our suitcases but it was a great idea that helped get through the days, and let's face it, it'll offset the weight of souvenirs coming home. We made our own trail mix and put it in Ziploc containers so that we could grab a cup a day for the kids to snack on. This is huge for parents with picky eaters! Then you know for sure they are going to eat something they like. The juice boxes we wrapped in a garbage bag for the way down, just in case a few decided to leak in our suitcases, and then the garbage bag doubled as a dirty laundry bag for the way home! We also put granola bars in containers so they didn't get squished which helps give everyone, not just the kids, a little energy boost through the day.
4.  Bring A Stroller
If you have kids 5 and under, I strongly recommend bringing a stroller from home or renting one. We chose not to bring our double stroller so that we didn't have to worry about it on the plane, but we made sure to put the rental in our budget when planning. We rented a double-stroller from Kingdom Strollers that could seat 100lbs on each side, came with a rain cover, shades that pulled all the way forward and the backs of the stroller laid down completely! It was a life (and back) saver! Not only was it great for giving the kids little legs a break, but it gave them a shady spot to sit and enjoy and snack. It also provided my son a great nap area because the back laid down completely. Even my daughter who was 5 used it to rest even though she wanted to go, go, go! Which brings me to my final point…
5.  Know Their Limits
If your little one is tired and needs a nap, let them! Don't be worried about them missing out on things because everyone will feel better after they've napped. My son slept through the Festival of Fantasy parade in Magic Kingdom and Finding Nemo: The Musical in Animal Kingdom. They make for pretty cute pictures! You can also find shady areas to relax, like the Rapunzel rest area, or do a quiet, indoor attraction, like The Enchanted Tiki Room or Tomorrowland Transit Authority's PeopleMover. There's also no harm in going back to your resort for a rest and continuing with the day once everyone is freshened up! This reduces the risk of those unmagical meltdowns happening.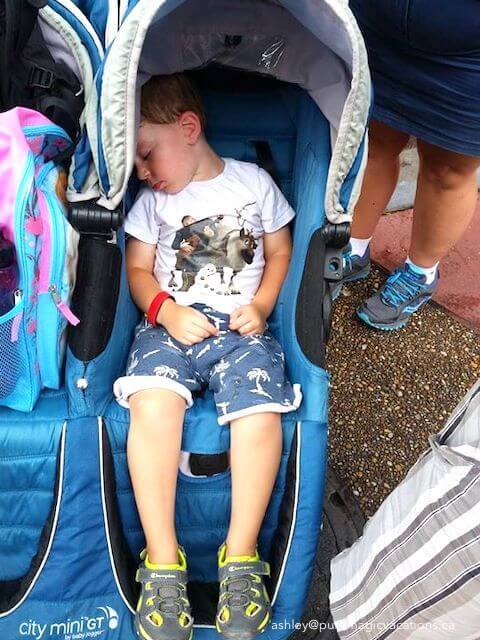 Traveling with my kids when they were so young was such a rewarding and memorable experience. If I had to go back, I would take them again but even younger! I absolutely love the memories we made and the pictures we have from that trip, it's still one of my favourite trips to Walt Disney World that I've ever taken!
Ashley at Pure Magic Vacations
Ashley's love of Disney started at a very young age, watching Disney movies and sing-alongs.  Her family was fortunate enough to travel while she was growing up so she caught the travel bug quite early.
Ashley was only 10 years old on her first trip to Walt Disney World and she still loves it just as much as she did then.  In fact, she loves it so much that she honeymooned at Walt Disney World when she got married.  Now Ashley enjoys her Disney vacations with her family and when she's not there – she's helping other families plan their magical adventures.
Contact Ashley at Ashley@PureMagicVacations.ca
Follow Ashley on Facebook AshleyAtPureMagicVacations