Have you tried the Key Lime Pie on a Stick yet? The last couple of trips down I missed out on this snack. When I was there in May I almost made it but they just had closed. Last week I was able to get my little hands on one of these amazing treats!!! 
Located at the Neighborhood Bakery in Disney's Hollywood Studios in Pixar Place with so many tasty treats inspired by The Incredibles. It was hard to choose between the Key Lime Pie on a stick or the Num Num Cookie. I had to go with the Key Lime Pie.
It was cold but wasn't frozen solid but then again it was August and way to hot that day. The blue coating was colored white chocolate and fell apart when I bit into it and the graham cracker crust was firm but the Key Lime itself was not frozen. I didn't find it to tart but there was a lot of sweet going on with the blue coating and the crust so that could be why.  I would get this again and if you like key lime pie I highly recommend you give this a try.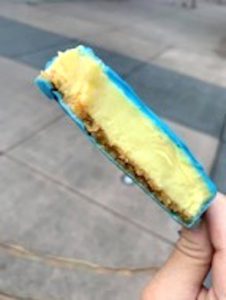 The cost is $4.99 USD and if you are on a Disney Dining plan you could use a snack credit.  
Let me know if you have tried the Key Lime Pie on a Stick and what your thoughts are!  I want to hear if you loved it too!!
This was written by Anna Scott, contact her at Anna@puremagicvacations.ca